Best Practices
2005-07-12

Ares helps Far Eastern International Bank introduce Summit FT system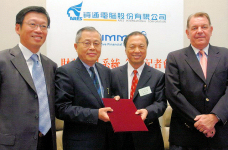 Far Eastern International Bank (FEIB) has chosen Ares International Corp., which has more than 20 years of experiences in international finance information, to establish the well-known international finance software Summit FT financial exchange system. In July 2, 2005, FEIB signed a contract with Ares for implementation of the system to prepare itself for the upcoming Basel II to be launched at the end of 2006 and establish an early risk management mechanism.
FEIB indicated that it is working with Ares for the Summit FT system to improve all operations (front-office exchange, middle-office risk management and back-office settlement) and realize international-standard straight-through processing as well as risk management that meets the standard of Basel II. With the system, FEIB can improve its operational efficiency, lower costs and achieves risk management while strengthening its financial exchange system and improving financial service quality, FEIB noted.
Ares International Corp. is a well-known information software company in Taiwan, with cultivation in the finance professional market for more than 20 years. An expert for the Taiwan financial institutions to promote their international business, Ares is the exclusive agent for Summit full product line-up and is also the only Regional Partner of SWIFT (Society for Worldwide Interbank Financial Telecommunication) in Taiwan. Ares will continue to introduce and support finance automation trends and policies while expand its service areas to offer international-standard software and technology integration services to local financial institutions.
Misys Banking Systems supplies over 1,200 customers in over 120 countries, among them 90% of the world&39#;s top 50 banks (Source: The Banker, July 2004), with software and solutions for retail banking, wholesale banking, treasury and capital markets and risk management. It has 2,600 people around the world, over 70% of whom are outside of the UK, and sales, implementation and customer support teams in over 28 countries.