Introduction
Financial administration institutions of different countries collect related data for strict monitoring and control while financial institutions will need to submit reports and related data to the administration institutions. Currently, regularly-submitted legal reports cover data such as asset/liability, income/loss, fund sufficiency status (regarding credit loan risk, market risk and operational risk), working capital, massive risk, loan category, foreign exchange position, interest risk and certificates that follow the local financial administration regulations. The reports normally need to be submitted every month or quarter.
---
Complete and effective solution
Ares Reporting Tool is a set of automatic bank report submission system based on regulations from financial administration institutions. Via connection to the existing computer system or data source center, the programs in the system can start the calculation process. Before long, the whole set of bank reports especially designed for the financial administration institutions in different countries can be offered for the bank to verify. In addition, with support of detailed statements for each set of data, the system allows direct tracking of various data sources.
---
Solution introduction
Ares Reporting Tool can follow various management standards of different financial administration institutions and is already adopted by various foreign and Taiwan-invested banks in Hong Kong. Compared with traditional manual processing model, the operational method of Ares Reporting Tool is simple and is highly cost effective.
Consequently, the system can help the bank in saving time of data collection and manual calculation whereas the user can allot his/her time to data analysis, auditing and creating new values. Additionally, the system can complement those that the back-office is unable to support while improving the output value of the bank staff.
Normally, the methods in compiling legal reports can be divided in two: manually created using MS-Excel and generated by systems. The traditional manual creation via MS-Excel requires much time in data collection and manual calculation. Furthermore, most reports generated by systems are not flexible enough and require longer adjustment time. Once the authority launches modifications to programs, the bank will fail to catch up with the progress. Consequently, the bank requires a set of solution that can reduce manual efforts and rapidly reflect and adjust reports.
---
Software Structure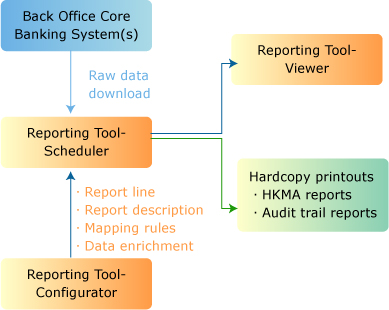 ---
Hardware Structure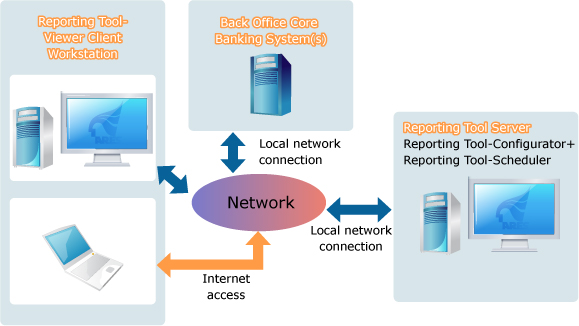 Ares Reporting Tool can not only generate local central report for individual branch office, but has a flexible system structure. The Reporting Tool can support regional report system and centralize management as well as offering a single database. The structure can reduce the overall costs of global report system management. In addition, the single-database feature allows extension of report generation of the bank and offers overall business analysis.
---
Future Hardware Structure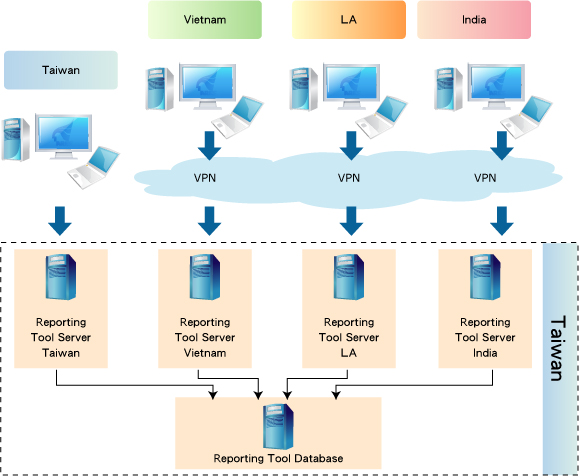 ---
Solution Advantages
Comparison of Reporting Tool, Excel and Crystal Report
| Report Requirements | Reporting Tool | Excel | Crystal Report |
| --- | --- | --- | --- |
| Complex data and various back-office source processing | ◎ | X | X |
| Common report processing scheduling | ◎ | X | X |
| Massive data processing and application | ◎ | X | X |
| Data source combined analysis | ◎ | X | X |
| Repeated usage of combined data sources | ◎ | X | X |
| Detailed calculation and inspection | ◎ | X | X |
| Report figure adjustments | ◎ | X | X |
Ares Reporting Tool can stay tuned to the legal submission requirements of financial administration institutions while preserving the report format, data source, data logic and parameter of all legal reports. Since the Reporting Tool can record and track the data generated by reports and launch comparative analysis after version updates, the user can pass on experiences, therefore avoiding losing knowledge for the legal reports designated by financial administration institutions. In the meantime, the Reporting Tool can centralize data for better auditing and adjustment and can process as well as store massive data record while allowing highly-efficient data tracking functions.
---
Solution Benefits
Fully automatic generation
Satisfy legal report requirements of financial administration institutions
Avoid losses of knowledge for legal reports of financial administration institutions
Save costs of manually compiling bank reports
Future deployment for centralization management of local reports for overseas branches
Integrate and introduce headquarter MIS report to improve the management benefits of report modifications
Process data sources of various back-office systems, improving the output benefits of consolidated reports
---
Customers
Legal report programming experiences in Taiwan
Taiwan Cooporative Bank
First Commercial Bank (FCB)
Central Trust of China (merged into Bank of Taiwan)
Hua Nan Bank
Overseas Chinese Banking (merged into Citibank Taiwan)
Bank of Kaohsiung
Cathay United Bank
Hwatai Bank
King's Town Bank
Bank of Panhsin
Legal report programming experiences in other regions
Bank of Taiwan
First Commercial Bank (FCB)
Chang Hwa Bank
Bank of Communications (Now Mega International Commercial Bank)
Land Bank of Taiwan
Taiwan Business Bank
Taiwan Cooporative Bank
Far Eastern International Bank (FEIB)
Cathay United Bank
China Development Industrial Bank
Industrial Bank of Taiwan
Contact: