Dynamic Decision Analysis Tool – Analyzer
Analyzer, a product distributed by Ares, is the best analytic tool for the enterprise BI platform and provides a complete BI solution. Analyzer has been adopted by numerous large-scale global enterprises. Analyzer can synchronously present the complete analysis result in multi-table, multi-graph, multi-worksheet and multi-bookmark styles, and enable users to fully interact with information and dig its values.
Analyzer satisfies 3 key functions: reporting, analytics and scorecard & dashboard. Different from the traditional reporting tools which satisfy query demand, Analyzer is good at OLAP (on-line analytical processing) and enables users to dig into the data and analyze it without restriction.
Analyzer can clarify measure and compare dimension or level. Not only can this rescue IT staff from heavy loading of reports, but also make obtaining thorough information and statistics in seconds possible for commercial users.
---
Architecture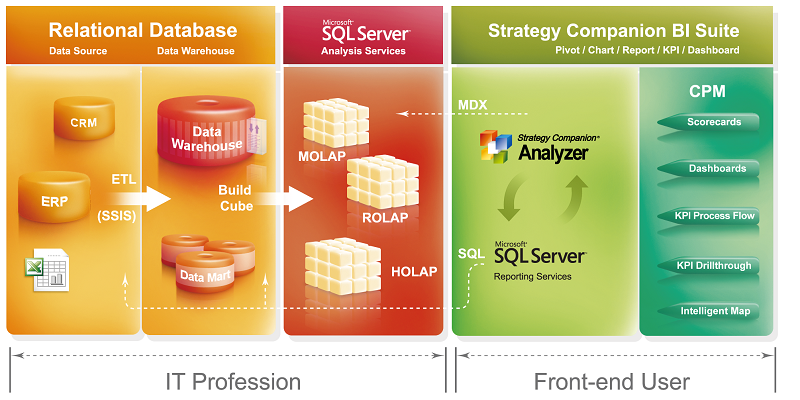 ---
Features
Rich and Various Display Methods
Various pivot table graphs with customized color and pattern will satisfy customers' vision.


No Miss on Key Information
It can be in accordance with the need to deploy information, notification delivery or notify persons when specific events take place.


Super Performance
Business efficiency has a tremendous improvement based on examination coming from more than 500 concurrent users in Europe/US SAAS large enterprises.


Pure Web Easily Established
No installation needed at users site. Browser is the only tool needed.


Microsoft SQL Seamless Integration
The best choice for enterprises with BI platform on Microsoft install based.


100% Zero Foot Point
No further components needed. More simple and efficient on usage, configuration, deployment, and management for enterprises in intranet and extranet.
---
Benefit – Pervasive BI Comes True
IT – More productivity and better outcome
Cost reduction and time saving on manpower from higher efficiency of table creating.
Provide consistent data and report definitions
Dexterous combination of data, flexible display of reports, and satisfaction to users will be completely improved.
Resource could be perfectly reorganized for critical mission.
User – More Efficient on Problem Discovered and Resolved
Obtaining operational statistics to build connection between departments
Analysis from different points of view and discover existing problems based on numerous data
Enhance operational performance with management on event orientation
Reduce operational costs by efficiently deploying human resources
Sharing value of information with customers, suppliers, and partners for intelligent analysis outside enterprise
---
Contact: