ARES-FSTP for SWIFT Funds - A total solution for fund automation
For a long time, the funds industry has substantially relied on fax and paper documents to deal with orders manually. It is estimated that the mistakes from manually process and the waste of financial manpower cost over USD 100 millions. Owing to too much manual process, the inefficiency is the greatest challenge for the development of funds investment industry.
There is more and more attention to the standardization and automation of funds management process, and the agitation arouses rapidly in Asia and Europe. ARES-FSTP (Fast Straight Through Processing) for SWIFT Funds is the first solution for the automation of foreign funds subscription, redemption, switch orders, and online confirmations between foreign fund houses and the distributors through SWIFT standard XML messages. This solution not only improves the efficiency of backend procedures and service operations, but also provides a standard platform to accelerate the automatic dealings process and reduce cost and risk.
ARES International Cooperation has cooperated with SWIFT for many years, and thus not only has thorough understanding of SWIFT standards and technology but masters XML technology. In the implementation project of the fund automation system in Taipei Fubon Commercial Bank, we cooperated closely with Taipei Fubon and Fedility, and ARES-FSTP went live smoothly on Nov. 14th, 2006. ARES-FSTP can handle the automation process of funds distribution and reach STP operation standard. This is a landmark for the internationalization of Taiwan financial industry. In addition, Taipei Fubon is the first bank that implements fund automation system successfully in Asia and inspires Taiwan banks to be more confident to catch the trend of fund automation synchronously and to raise global competitiveness of Taiwan financial industry.
Main Functions of ARES-FSTP for SWIFT Funds
Subscription/Redemption/Switch order automation through SWIFT (XML)
Subscription/Redemption/Switch orders through auto-fax (Optional)
Subscription/Redemption/Switch Confirmation
Receive Statement of Holdings messages
Receive Price Report messages
Authority control of system users
Benefits of ARSE-FSTP for SWIFT Funds
Trade with go-live fund houses with SWIFT messages as a substitute for fax
Offer the auto-fax function to replace manual fax operation and reduce the manpower cost
Confirm orders with SWIFT messages instead of telephone calls
Instead of manually keying in confirmations, ARES-FSTP receives Confirmations and writes them in the current fund system to reduce manual operation cost and risk. Users can know the expected value day of redemption money precisely to do the following operations
Fund houses send holdings information with SWIFT messages to reduce manpower cost
Fund houses send NAV information with SWIFT messages to increase the informational time effect and completeness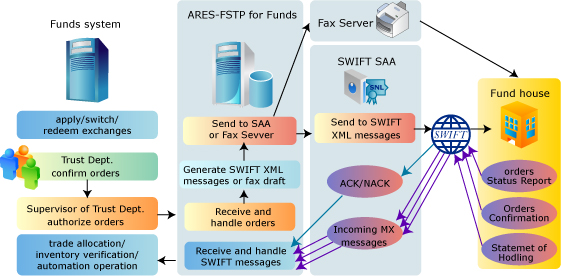 Customers
Landbank of Taiwan
Taipei Fubon Commercial Bank
The Shanghai Commercial & Savings Bank
Interested in this product, feel free to contact:
FSTP Product Sales : +886-2-25221351 Ext. 301 Jenny Wang