Network Healthy Monitoring System – NHMS
Network Healthy Monitoring System (NHMS) is a complete Internet monitoring program. Business information manager can browse through the Internet equipment and server status of a company through a simple Internet diagram, and check for any abnormal server problems.
---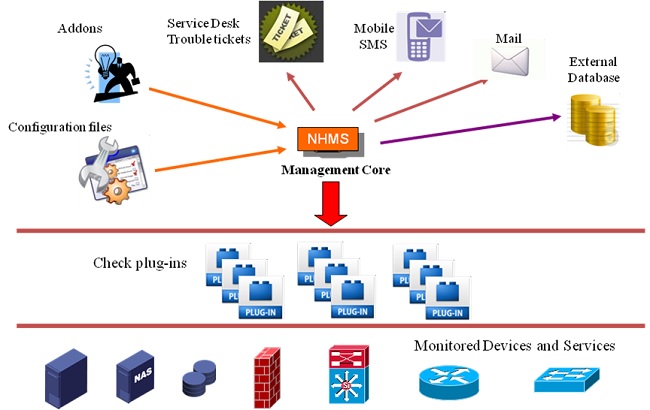 ---
Product Functions:
Internet service monitoring (SMTP, POP3, HTTP, FIP, etc)
Host resource monitoring (processor overload, hard drive, memory space usage, etc)
Easy plug-in design, allowing familiar programming language to develop service checking programs
Parallel processing service
Define monitored host or network devices hierarchy relationship
When encountering problems, notify appointed related employee and groups
Set up incident handling
Log file automatic rotation
Support redundant monitoring host
Web UI viewing Internet monitoring status, notify history records, log files, etc.
---
Product Benefits:
Posses future monitoring needs for flexibility and extensibility
Quickly receive equipment status and information
Graphically display monitoring information, increase Internet monitoring personnel efficiency
Provide equipment and application reliability
Establish good network communication services
Lower losses due to network failure and maintenance
Improve network transmission quality
Lower network maintenance costs
---
Product Inquiry