Oracle ERP
Oracle ERP Introduction
Oracle ERP is the core software of Oracle E-Business Suite and Oracle EBS is a set of total solution that is based on ERP (Enterprise Resource Planning), with the system extended to the customer end, supply chain end and high-level decision support system, which can be called ERP II. Besides including the traditional ERP, which is at the core of the enterprise, Oracle ERP integrates CRM (Customer Relationship Management), SCM (Supply Chain Management and BI (Business Intelligence). During the ERP project implementation process, the enterprise can best re-engineer itself. With the introduction of the ERP project, the enterprise can inspect various process flows yet again, adjust them to fit in the requirement of future operations and realize those in the system. With the non-stop evolution of the enterprise, the ERP system will have to stay tuned to offer the necessary enterprise operation competitiveness.
Oracle ERP Structure
Oracle ERP Advantages
Product
Advantage
Benefit
E-Business Suite
The Most Complete, Integrated Business Intelligence Portfolio

Achieve an end-to-end viewpoint across all business lines
Drive performance with consistent financial and operational information
Provide every employee with relevant, complete information tailored to his/her role

The Most Adaptable Global Business Platform

Global operation with local foothold
Extend global business processes with application integration architecture
Non-stop support for your global operations

The Most Customer-Focused Applications Strategy

Protect the value of existing investments
Extend the value of current applications
Help to evolve to the next generation
---
Oracle CRM
Oracle CRM Introduction
Oracle's integrated Customer Relationship Management (CRM) solution is a set of management system that gives you information about sales, service and marketing. Oracle CRM is built on an open, standard-based architecture that streamlines business processes, improves data quality and allows all your key divisions to draw from the same source of data. With Oracle CRM, your company owns the single best tool for a successful CRM - accurate information.
Oracle CRM Structure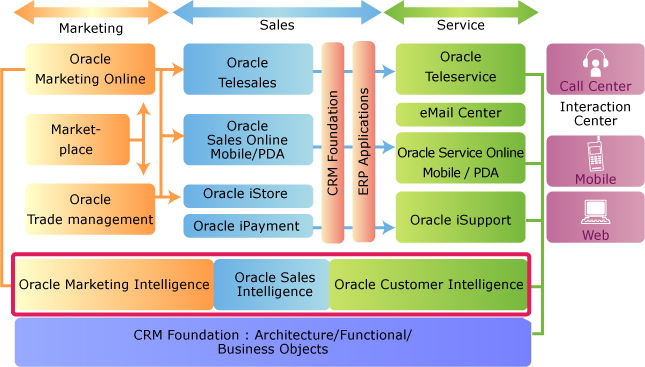 Oracle CRM Advantage
From precisely measuring marketing campaigns to automatically dispatching field technicians to remote locations, Oracle has more than 50 CRM-specific applications that help you to easily address each phase of your CRM cycle.