ciMes (abbreviation for Computer Integrated Manufacturing Execution System) is an application software based on Microsoft Visual Studio .Net. The application assists an enterprise in collecting and monitoring production data during the manufacturing process – from order placing, production inception, process control to product output. With ciMes, manufacturers can ensure their product quality, increase capacity, improve yields, meet delivery dates and better satisfy their clients since they can immediately stay controled in the changing environment.
In addition, Ares International Corp. has been developing its business in Hong Kong for around twenty years, so it is familiar with local business rituals and rules. In addition, with its various service branches in Greater China, abundant integration experiences and technical resources, Ares is the best partner for finance enterprises in Greater China.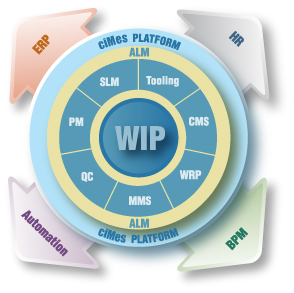 ciMes Complete Modules Include
WIP - Work in Process
QC - Quality Control
PM - Preventive Maintenance
MMS - Material Management System
CMS - Carrier Management System
WRP - Web Report Portal
SLM - Shipping Label Management
ALM - Alarm Management
Tooling - Component Management System
Joint System
ERP - Enterprise Resource Planning
Automation - Machine Automatic Connection
HR - Human Resources Mangement System
BPM - Business Process Management System
Customers
Allied Integrated Patterning Corp. (AIPC), APTOS Corporation, AU Optronics (AUO), Chi Mei Materials Technology Corp. (CMMT), ChipMOS TECHNOLOGIES (Bermuda) LTD. (ChipMOS), Grace Semiconductor Manufacturing Corporation (GSMC), HeJian Technology, King Yuan Electronics (KYEC), Luxxon, Optodisc Technology Corporation, Micro Silicon Elecs. Corp. (MSEC), Powerchip Semiconductor Corp. (PSC), Princeton Technology Corp., Radiant Opto-Electronics Corporation, Sintek Photronic, STATS ChipPAC Taiwan Semiconductor Corporation, Taiwan Semiconductor Manufacturing Company, Topsun Optronics Inc., Truly Semiconductors, United Microdisplay Optronics (UMO), Vanguard International Semiconductor Corporation (VIS),etc.
Contact