Ares holds user conference for 30-year anniversary
Ares International Corp. recently held a user conference at Taipei 101 International Conference Center for celebration of its 30-year anniversary with its customers.
Ares chairman Harry Yu delivered a welcoming speech on the 30-year anniversary and outlook of Ares. Besides acknowledging thirty years of support from Ares customers, Mr. Yu reiterates the motto of Ares "fulfill promises for customers". Providing the best product and service with professional and down-to-earth attitude has enabled Ares to stand firm amid the competitive information service industry, Mr. Yu noted, adding that Ares will continue stressing its quality policy and grow steadily with its customers.
Next came the speech by Ji-Ren, Lee, professor of the Department of International Business, National Taiwan University. Professor Lee shared key concepts regarding enterprise growth and management ability at the event. Participants were highly motivated by the speech and had enthusiastic interaction with professor Lee.
Frank Lin, Ares president, introduced "Ares full line-up of products and services", which covers system integration and development, e-business, consultant service as well as maintenance and support of software and hardware. Ares specializes in software applications in finance, enterprise and government areas, helping to improve the performance of enterprise production and management as well as the global competitiveness of its clients in the long term, Lin noted.
During lunch time, Ares invited all its guests to enjoy buffet while admiring the magnificent view of the 36th-floor dining area.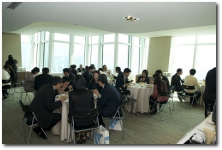 In the afternoon, Hui Wen, Deng, a famous psychologist, lectured on how to ease stress when working and manage personal emotions. The rich and straightforward speech helped the participants to learn more about how to release tension and have a good emotions management.
After the full-day agenda ended, Ares invited its guests to enjoy indoor and outdoor scenery of the 88- to 91th floor observatories.
Introduction of Ares
Ares International Corp. is the first Taiwan-based software company to be listed on the Taiwan Stock Exchange (TSE). Established for 30 years, Ares is a professional management information system software provider, with professional areas in product technical R&D and system integration. Ares provides products as well as total solutions for e-enterprise, with major service fields mainly for the financial, government and enterprise segments. Ares has received CMMI L3 certification, has outstanding project integration ability, quality guarantee ability, development and maintenance ability and the most complete professional consultant team.