AFEIS New Foreign Exchange Integration System – All-Encompassing Banking Tool for Competitiveness
The internationalization of finance has become an inevitable trend. Banks nowadays not only face domestic challenges, but also all-around competition both internationally and in an inter-industry way. Since the information system has complete functions, is stable and flexible, the profitability of the bank can be improved. The AFEIS, developed by Ares International Corp, is easy to operate, can fully cater to the actual need of the bank in management and integration. In addition, AFEIS can effectively improve operation efficiency and risk control ability, so it is the best tool for banks to improve competitiveness amid internationalization.
AFEIS (Advanced Foreign Exchange Integrated System) Turning Point in an Era of Marginal Profits
The AFEIS, developed by Ares International Corp., new foreign exchange computer integration system is a foreign exchange business system with complete functions, covering retail banking, wholesale banking, dealing room, etc. Using object-oriented design concept, the system can be built on multiple mainframe platforms. Its stable and flexible system characteristics allow combination with existing banking systems (securing existing investments), integration with future business interfaces and link to the global connection system of SWIFT. Thus, AFEIS offers competitiveness for banks in the era of marginal profits.
All-Encompassing AFEIS
Technical
Has the advantages of bundle software and flexibility of project development
Support multiple mainframe operating platforms (RS/6000AIX, NT AS400)
Support various networking system
Support Windows workstation operating environment
Can link to all SWIFT systems (Alliance, MERVA)
Use object-oriented design concept
GUI uses highly-transplantable Java development tool
Report system uses highly-flexible Crystal Report system
Product
Professional team offers customization service
Windows help to search, is easy to operate
Automatic operation, operation efficiency is high, saving costs
Easy and quick branch office settlement operation
Batch operation of automatic scheduling
Automatically-created batch report
Business
Foreign exchange system with complete functions, cater to various business needs
Branch system with complete functions, cater to the needs of all business units
SWIFT telegram, bank receipt, note, accounting are automatically generated with exchanges
Dealers directly access to SWIFT telegram data, reducing manual input errors
Strict and thorough security control
Real-time and complete credit limit control, including that for client, country, exchange counterpart, bond issuer and dealer
Segmental control of a branch, offering dealers real-time segmental information
Fund flow control of a branch, improving the flexibility of dealer fund deployment
Transaction quick settlement pre-sales and exchange rate bargain, saving manual input time
Provide management statistics with high flexibility
Bank receipt editing and checking functions that are in accordance with the standards of the Central Bank of the Republic of China (Taiwan)
Central Bank media declaration processing Integration
Integration
Real-time self-adjusting mainframe that integrates with Taiwan dollar and foreign currencies, with the service covering customer, credit limit and savings
Real-time update with exchange rate board
Connectable to Reuters to obtain real-time market exchange rate
Expandable new business or derivative commodity, very flexible
Technical Support
Experienced local R&D team offers professional customization service that fulfills clients' need
Professional business representatives offer complete planning and service
Sole Business & Service partner of in Taiwan of SWIFT, offering implementation and integration design-in experiences
AFEIS System Function Chart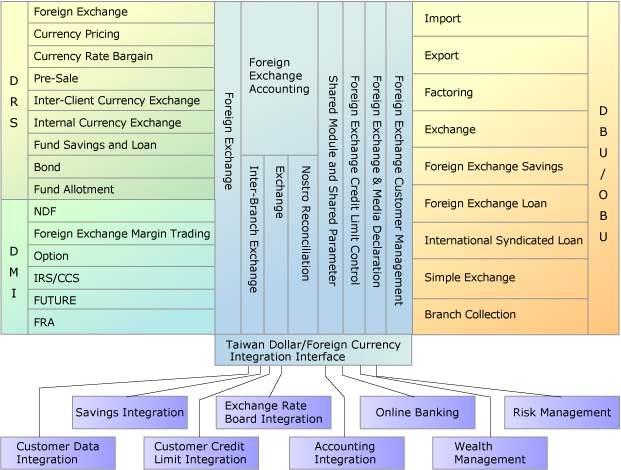 Customers
Cosmos Bank
Cathay United Bank
King's Town Bank
Bank of Panhsin
Hwatai Bank
Bank of Taipei
China Development Industrial Bank
Contact: