Professional Territory
Ares International Corp. is famous for its leading soft development technology and abundant experience in the industry. We provide all-around solution proposals to customer with our accumulated know-hows and integration abilities from various areas. With our offering, our customers will have supports when dealing with suppliers from hardware, software, network and accessories.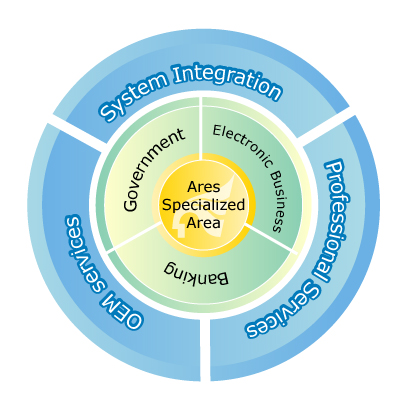 ---
Banking - The Expert for International Banking Software System
Ares International Corp. , the exclusive SWIFT Regional Partner in Taiwan, is a well-known information software house listed on the Taiwan Stock Exchange (TWSE). Ares was the first to introduce and support the trend and policy of automatic banking while expanding its service areas to provide software system and technology integration services in international standard information systems and helps Taiwanese banks to achieve internationalization for all service areas to lead in international banking.
Other than offering foreign exchange-related products such as eAresBank International Banking Integration System and AFEIS (Advanced Foreign Exchange Integrated System), Ares has also been working with famous international suppliers such as SWIFT, SUMMIT and others while introducing their products to assist Taiwanese banks to face the upcoming challenges brought by globalization and win this campaign. We provide immediate technology consultation and accessory system integration services with our over-twenty-year experiences in international banking establishment and know-hows. Our customers in Taiwan, Hong Kong, Singapore, Japan, Australia, Europe, Africa and the US have been the best testimony for our professional technology and service quality.
---
Government Business – Improving Administrative Efficiency by IT Applications
With experiences in system integration and project implementation, Ares has assisted government authorities to develop various large-scale projects throughout Taiwan. This highlights Ares' ability in managing and controlling large-scale projects, with related supports including pre-project planning, contacting horizontal and vertical suppliers, communicating with customers, establishing control system and user training. As a leading company in national large-scale construction plans, Ares has combined the resources from software suppliers in all areas and became one of the few information software companies in Taiwan capable of forming a central-satellite system for the software segment and accomplishes its project management.
Below is a list of our representative customers:
Outsourcing project for expanding IC card certification functions in the e-portal of Taiwan's Ministry of Finance
Outsourcing service application software for tax information platform transformation plan of the National Tax Bureaus of Taiwan's Ministry of Finance
Promote and help over 380 local household registration authorizations under Household Registration Affairs Information System of Taiwan's Ministry of The Interior in helping them to transform their service and related maintenance into on line ones.
System development, on-line implementation, after-sales maintenance for commercial and industrial management system of the portal of Taiwan's MOEA.
Integration platform for Citizen Digital Certificate and single log-in of Taiwan's Ministry of Transportation and Communication
Outsourcing project for PKI platform integration for e CNC program development and establishment for the intellectual property right of Taiwan's Intellectual Property Office
E-employee ID card experiment plan for the Taipei City Government
---
E-Business - Solution for Integration of Manufacturing and Service Information
For e-business, we used to form alliances with large international enterprises to have direct technology transfer from them to add to our outstanding organizing and design abilities for database systems, experiences in system integrations and domain know-hows from various areas to provide services for implementation and consultation in various industries.
Introducing software can help improve the quality of both enterprise and workforce, enabling our clients to gain a leading position in the international market. Furthermore, we offer self-developed systems such as ciMes manufacturing execution system, HCP (Human Capital Planner), cross-strait GIB (Goods in Bond), cross-strait media of tax application uploaded to Taiwan's Ministry of Finance, uPKI identity certification management and uIAM single sign-on system. In the meantime, we are the distributor of PLM (Product Lifecycle Management), CRM (Customer Relationship Management) and BPM (Business Process Management). We also offer solutions for the integration of global manufacturing service information using SOA (Service-Oriented Architecture) integration.
Because of its unique factory floor flexibility, Taiwan's manufacturing industry, especially for the technology and electronic industries, can follow the "developing products on manufacturing sites" approach to carry out a flexible manufacturing management, delicate production supporting actions, as well as rapid and stable delivery that is difficult to be imitated by foreign manufacturers. Therefore, Taiwan can maintain a competitive edge. The production flexibility from Taiwan's manufacturing industry is supported by the "the management system for integrating information of manufacturing and service".
We provide valuable services such as design, order, purchase, incoming material, production, stock house, delivery, marketing, after-sales service and technology support to make possible the most economical and fastest production while offering backup arrangements for our clients. To stay competitive, Taiwanese enterprises now not only deliver products to clients but also create a more competitive global framework for electronic manufacturing services.
---
Global Manufacture Solution Map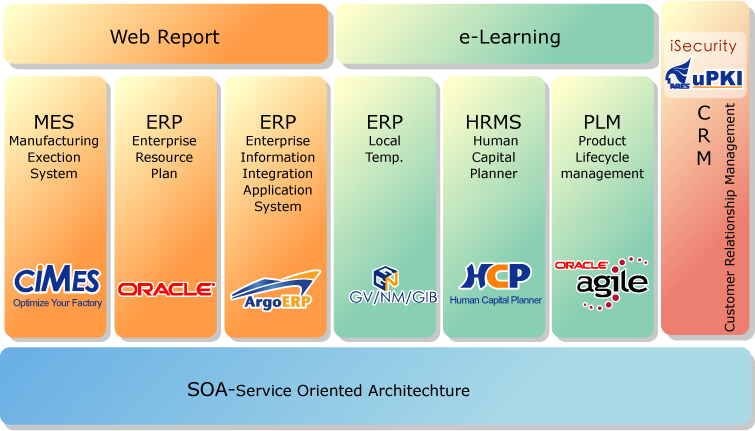 Outsourcing Service - Create Win-Win Situation by Strategic Outsourcing Value Chain
Nowadays, various industries rely on computer application systems and Ares has been providing professional manpower support, co-location and other outsourcing services based on experiences of over thirty years on consultation, educational training, project development and system maintenance to solve the difference between human resource need and the actual arrangements that vary according to different stages during the lifecycle of application system development and operation.
We also help clients to avoid the rapidly-growing manpower size in the IT department when introducing new application systems. Also, we help control the appropriate timing of hiring new employees and management costs for IT employees. As a result, our clients can focus on the R&D aspect of their core business and accomplish a by-stage IT recruitment plan.
---
IT Outsourcing Service model