Company Profile
Ares International Corp. has been dedicated to IT services for over 37 years and has gained reputation for its outstanding software technologies and abundant experiences. Ares mainly provides software products and professional services for financial organizations, governmental institutions and enterprises.
Ares is now the Taiwan partner of SWIFT while also being the first Oracle partner in Taiwan. For factory solution, Ares now is the top Manufacturing Execution System (MES) maker for LED industry and is the first government-acknowledged International Financial Reporting Standards (IFRS) ERP solution provider. Ares is also the top player of the Taiwan foreign exchange and core banking solution company.
Established in 1980 and the first of its peers to be listed on the Taiwan Stock Exchange (TWSE) in 2001, Ares now has three branches in Taiwan (Taipei, Hsinchu and Taichung) and one in China (Suzhou), with about 400 employees: 300 in Taiwan and about 60 in China, while more than 350 employees are dedicated to R&D activities.
---
Service Items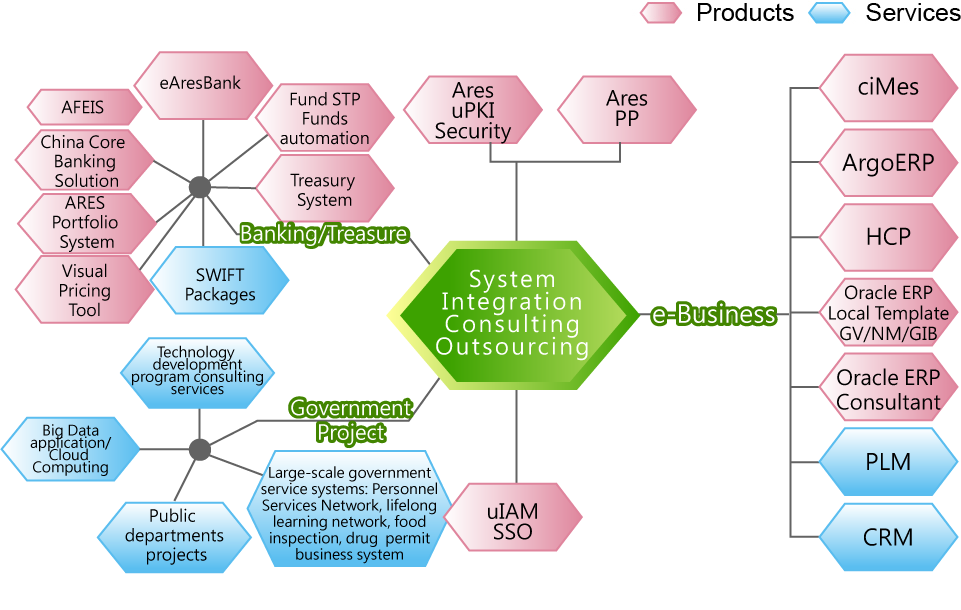 ---
ARES People
We regard our employees as our most invaluable asset and insist on being fully responsible to our clients. Therefore, we always recruit those that are loyal, trustworthy and have initiatives. Over 97% of our employees has a bachelor degree or above. Responsible and hard-working, our employees can learn and support each other in a harmonious working environment. Therefore, they can achieve and surpass goals both personally and as a group.
Information technology is a field of high intelligence. We manage to offer self-fulfillment by appropriate and continuous in-job trainings while urging our employees to take more responsibilities, so that we can realize our goals and visions.
---
Honor of Ares
OTC listed in March, 1999 and turned stock market listed in September, 2001.
First stock market listed software company in Taiwan
First IFRS Solutions Counseling Vendor in Taiwan
First professional agency of Oracle in Taiwan
Microsoft Gold Certified Partner
IBM Partner
Largest market share of Manufacturing Execution System (MES) of LED industry in Taiwan
The only Taiwan regional Partner of SWIFT (Society for Worldwide Interbank Financial Telecommunication)
Largest market share of overseas branches core banking system and foreign exchange system vendor in Taiwan
Large-scale government projects execute and promote vendor

Government information integration services for innovative policy application.
E-Marketing and promotion for major government policies (i.e. Baby Delivery Bird Information Service Website)
Big Data Applications Project

Only Taiwan MES solution acknowledged by international research institution Gartner
Corporate with Thai software leader DataOne Asia to launch ArgoERP in Thailand