Ares displays tablet PC factory system solution at recent media event
Ares International Corp. recently displayed its ciMes (Computer Integrated Manufacturing Execution System) on tablet PCs at a forum held by Taiwan-based media DIGITIMES.

Ares exhibited its mobile application and provided a tablet PC for visitors to use ciMes functions, showing how manufacturing management can be applied to mobile applications without restraints of location and time. The visitors were excited to learn that the tablet PC can display key production information such as defective goods in no time, enabling a real mobile management that misses no production information. As such, the visitors were all highly interested in the trial experiences and related functions.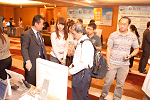 Jack Tseng, sales manager of Ares ciMes team, also delivered a speech at the forum, introducing MES functions and benefits, equipping participants with MES management philosophy and goals while the participants learned how to execute, integrate, monitor, manage and make decisions regarding factory manufacturing details with transparent, digitized and immediate methods. Ultimately, the management level can deliver timely and accurate directions.
Tseng noted that ciMes supports various languages, flexible menu option modifications and Web interface. System users can immediately capture information such as procedure parameter, equipment utilization rate, equipment status, staff performance, order status and real-time production capacity. Moreover, cross-department values are delivered especially by ciMes, with departments such as sales, procedure, manufacturing, production control, information and finance all capable of improving competitiveness via ciMes functions covering WIP (Work-In-Process), capacity, quality, order status, staff working hour, equipment utilization rate, etc.

For operational management, enterprises can realize a transparent management via ciMes, reducing production time and WIP items, improving delivery rate and yields while optimizing material and production resume and obtaining real-time production information. Consequently, customer satisfaction and overall competitiveness will be improved.
The forum saw as many participants as 300 people, all of which were immensely satisfied with the speech by Tseng and both parties had a heated discussion after his speech, showing a promising outlook for Ares ciMes mobile solution.
Introduction of ciMes
ciMes allows remote management of production line operation, on-line multi-language switch, access to database via Internet for shared production parameter, equipment utilization and status, staff performance, order progress and real-time capacity. The nine modules of ciMes are centered on WIP while connecting various operations. ciMes is flexible in its logic structure, allowing it to be easily integrated with ERP, HR, BPM and automation systems. Ares ciMes consultants are equipped with rich industry knowledge and can assist the enterprise to inspect its real needs in various aspects of production when evaluating manufacturing system. ciMes now features implementation templates of various industries such as semiconductor, optoelectronics, electronic assembly, machinery, etc.
Introduction of Ares
Ares has provided professional services for over 30 years and is the first Taiwan-based software company to be listed on the Taiwan Stock Exchange (TSE). Ares is a professional manufacturing management information system provider, with over ten years of CIM and MES experiences and is CMMI L3 certified.