Ares promotes personal data protection at government event
A leading Taiwan-based information security company, Ares International Corp. recently promotes the personal data protection concept at an event held by the Industrial Development Bureau (IDB) of Taiwan's Ministry of Economic Affairs (MOEA).
Taiwan government announced a new draft for the Personal Data Protection Law in October, 2011, bringing challenges and impacts to local enterprises. Thereby, IDB hosted the event to assist the enterprises in complying with the new Law.
Ares displayed its full line-up of ARES uPKI at the event, offering security control platform with PKI functions, with the platform supporting electronic signature, encryption and verification, etc. The ARES uPKI platform structure consists of security control component, validation authority (VA) and log system. The complete product features captivated the attention of participants and leave them with strong impressions.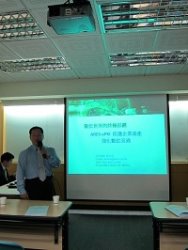 Ares representative Joseph Tsai introduced the concept of "ARES uPKI protects enterprise assets and strengthens digital flows", highlighting the notions that ARES uPKI is flexible and applicable in various areas. With no constraints regarding to platform and programming language, ARES uPKI can be easily implemented, integrated and is stable. Therefore, the product is ideal for enterprises in complying with the Personal Data Protection Law.
Introduction of ARES uPKI
Ares International Corp. is famous for its leading software R&D technology and abundant experiences. Ares started Internet security software R&D in 2001 and is the first company in Taiwan to launch VA server. ARES uPKI is the largest-scale information security product in Taiwan and has the most government clients locally. ARES uPKI is the only information security product in Taiwan that is Novell YES certified, with patented technologies approved in Taiwan, China, Japan and the US. With PKI solutions covering identification, electronic signature, en/decoding and authorization, ARES uPKI is the most suitable information security mechanism for all kinds of institutions.
Introduction of Ares
Ares International Corp. is the first Taiwan-based software company to be listed on the Taiwan Stock Exchange (TSE). Established for over 30 years, Ares is a professional management information system software provider, with expertise in product R&D and system integration. Ares provides products and total solutions for e-enterprise, with service areas covering the financial, government and enterprise segments. Ares has received CMMI L3 certification, has outstanding project integration ability, quality guarantee ability, development and maintenance ability and the most complete professional consultancy team.