Ares hosts SAAS cloud service event for banks
Ares International Corp. and Taiwan top supply chain and logistics solution provider Toplogis Inc. recently held a seminar for major Taiwan-based banks to share how the two companies offer banks benefits regarding a new SAAS (Software as a Service) cloud service, which combines logistic and financial supply chain platforms.
Ares president Frank Lin kicked off the event with an opening speech. Lin indicated Ares has years of experiences in the Taiwan financial service industry, offering various banking application systems such as eAresBank core banking system, AFEIS trade finance system, etc. Ares also provides products connecting SWIFT services such as ARES FSTP for SWIFT Funds. Lin noted that banks can benefit from the cloud business model offered by the new cloud service of Ares and Toplogis, under the "Golden Cloud Plan", with trustworthy information of transaction notes, adding that banks can connect with top manufacturing companies and logistic service providers, with minimal infrastructure investment while STP operation with back office of banks is supported.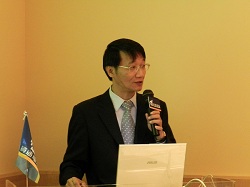 Michael Kuo, vice president with Toplogis, stressed the company has developed an online operational platform with collaboration operation and interactive model via its abundant logistic experiences for logistic and manufacturing companies. Its logistic system platform has been adopted by global logistic service providers and supply chain partners, facilitating cargo delivery to global operations covering Taiwan, China, Singapore and the US.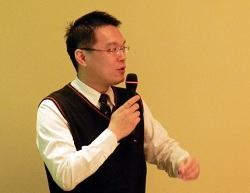 Joy Li, product manager of Ares banking segment, demonstrated scenarios of various financing procedures between banks and manufacturing companies, emphasizing the user-friendly design, flexible interest rate and expense calculation methods, strict quota control and risk management as well as trustworthy security and confidentiality.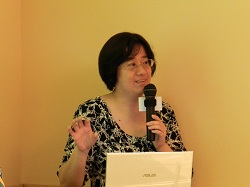 The "Golden Cloud Plan" is a plan sponsored by the Industrial Development Bureau
(IDB) of Taiwan's Ministry of Economic Affairs (MOEA) to promote Taiwan's cloud industry environment. The plan covers two clouds: logistic and finance.
Ares Banking Service Introduction
Ares is SWIFT Regional Partner in Taiwan and the first to introduce and support the trend and policy of automatic banking while expanding its service areas to provide software system and technology integration services in international standard information systems while helping Taiwanese banks to achieve internationalization for all service areas to lead in international banking.
Other than offering foreign exchange-related products such as eAresBank and AFEIS (Advanced Foreign Exchange Integrated System), Ares has also been working with famous international suppliers such as SWIFT. The company provides immediate technology consultation and accessory system integration services with our over-twenty-year experiences in international banking establishment and know-hows. Its customers in Taiwan, Hong Kong, Singapore, Japan, Australia, Europe, Africa and the US have been the best testimony for our professional technology and service quality.
Ares Introduction
Ares International Corp. is the first Taiwan-based software company to be listed on the Taiwan Stock Exchange (TSE). Established for over 30 years, Ares is a professional management information system software provider, with expertise in product R&D and system integration. Ares provides products and total solutions for e-enterprise, with service areas covering the financial, government and enterprise segments. Ares has outstanding project integration ability, quality guarantee ability, development and maintenance ability and a professional consultancy team.