Ares joins PKI competition educational training for college students
Ares International Corp. recently joined an educational training for Taiwanese college students. The training is to prepare the students for joining the International ICT Innovative Services Contest "PKI Team".
Leon Jiang, R& D programmer of Ares, introduced ARES uPKI security control component and application examples. With demonstration of application procedures, Jiang helped familiarize the students with ARES uPKI product principles.
Students participated keenly in the event while their processors also joined the event to learn more about the competition. Participants discussed enthusiastically with Jiang about related application scenarios.
Ares is active in promoting PKI application in universities and has worked with Industrial Economics & Knowledge Center (IEK), Computer Center of Ministry of Education (MOE), Department of Commerce and Chinese Society of Information Management (CSIM) in PKI competition since 2008. Over 12 universities have chosen ARES uPKI in developing PKI applications.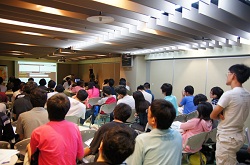 ARES uPKI introduction: https://pki.ares.com.tw/en/
Ares Introduction:
Ares International Corp. is the first Taiwan-based software company to be listed on the Taiwan Stock Exchange (TSE). Established for over 30 years, Ares is a professional management information system software provider, with expertise in product R&D and system integration. Ares provides products and total solutions for e-enterprise, with service areas covering the financial, government and enterprise segments. Ares has outstanding project integration ability, quality guarantee ability, development and maintenance ability and a professional consultancy team.