Ares International highlights software achievements at China (Nanjing) International Software Product Expo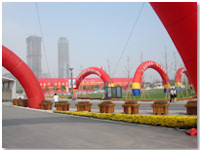 Ares International Corp., a major software solution provider in Taiwan, is highlighting its HCP (Human Capital Planner), GIB (Goods in Bond) and ciMes (Computer Integrated Manufacturing Execution System) at the fourth China (Nanjing) International Software Product Expo (September 23-25).
During the Expo, Ares is promoting its HCP human resources system, which can help improving the overall competitive edge of the enterprise and create more long-term value via the employee. In addition, Ares is presenting how its GIB Goods in Bond system helps the customer to effectively process Customs operation and to transform the Customs bottleneck into competitiveness. Furthermore, Ares is showcasing how its ciMes system can help making factory management transparent, improving production yields and meeting the delivery schedule.

At the Expo, Ares is introducing how it can offer the best solutions while combining advanced information applications with the best practices.
China (Nanjing) International Software Product Expo has become one of the most high-quality professional software product expositions with the largest scale and the best effect in China. The expo has been ranked among the "China Top 10 most Influential Expo Brands" by the China Exhibition Summit for two consecutive years. The fourth China (Nanjing) International Software Product Expo focuses on "software outsourcing and digital city" and mainly includes activities such as exhibition displays, project introduction/consultation, executive communication, issue discussion, policy consultation, software best practice distribution. Consequently, the show offers a platform for the cooperation and exchange for software and information service providers in China and overseas regions.
Most of the clients of Ares are international conglomerates across the Taiwan Strait and the world. Ares has always positioned itself as the IT department of its customers; therefore, Ares tries its best to stay close to its customers, find out their problems and offer the best solutions. In addition, Ares is always learning with its customers, helping them in deploying their global business while realizing its own growth. Creating success for the clients and helping them to improve global competitiveness have always been the goals that Ares insist on achieving.
Introduction of Ares
Ares International Corp. is the first Taiwan-based software company to be listed on the TSE. Established for nearly 30 years, Ares is a professional management information system software provider, with professional areas in product technical R&D and system integration. Ares provides products as well as total solutions for e-enterprise, with major service fields mainly for the financial, government and enterprise sides. Ares has passed the CMMI L3 certification, has outstanding project integration ability, quality guarantee ability, development and maintenance ability and the most complete professional consultancy team.