Thai Government gained PKI technology and establishment from Taiwan in an international seminar. Ares was the spotlight at the seminar with its successful uPKI experiences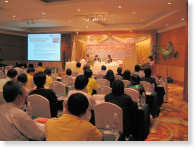 Ares was invited to attend the two-day Seminar and Roundtable Meeting on Draft of Royal Decree on CA and Certificate Policy & Certification Practice Statement, hosted by the Thai government authority NECTEC (National Electronics and Computer Technology Center), on March 9. Our R&D manager, Mr. Chien-Don (James) Wu, addressed "Successful e-Taiwan: Best Practice on PKI" in the seminar to express that Ares has been devoted to researching and developing information security technology for six years and has complete information security products and design-in experiences. Ares uPKI has abundant experiences and excellent performance in its application in Taiwanese government and enterprises. Ares officially introduced its PKI and CA information security technology establishment experiences for the Thai government and enterprises via this international gathering.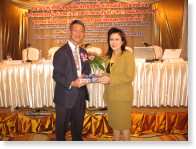 NECTEC belongs to NSTDA (National Science and Technology Development Agency) of the Thai government authority MOST (Ministry of Science and Technology) and is engaged in promoting electronic and computer technology development through any kind of R&D activities while serving as a communication media between Thai research units and enterprises. "PKI Interoperability Management and Promotion Program", driven by the Department of Commerce of Taiwan's Ministry of Economic Affairs (MOEA), has strived to achieve "International PKI Interoperability Cooperation" and "Promote PKI application & Business Development". The department has invited various international trainees to Taiwan to attend the Taiwan International PKI Training Program and visit representatives from Taiwan's industrial, governmental and academic sectors. Through this activity, Taiwan-based enterprises have the opportunity to show their technology results to overseas potential buyers. Meanwhile, Ares is always the key company for foreign enterprises that are looking for information security technology exchanges.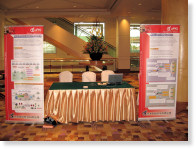 Recently, Ares has assisted National Tax Administration of the Republic of Guatemala to apply Electronic Signature Authentication to its existing custom operation system and made uPKI possible. Through this successful practice, the information security technology of Ares uPKI Electronic Signature Authentication has been introduced and promoted to worldwide users. The PKI technology application for the Thai government and enterprises is still at its early stage. However, a CA infrastructure is already set up. In fact, the Thai government is impressed to learn that Ares has finished the system establishment for National Tax Administration of Guatemala in a short period of time.
Ares, with its professional brand image, is the first leading enterprise to launch VA. Furthermore, Ares has received patents on its self-designed uPKI while awarded the 2005 IT Month Outstanding IT Applications/ Products Awards, from Taiwan, Japan and the US. Ares keeps providing government authorities and enterprises with complete information security technology solutions, so that it has gained fair praise and trust.