Software solution provider Ares International draws spotlight at China's eMEX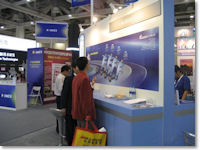 Ares International Corp. highlighted its complete enterprise information service integration solutions at the seventh eMEX (Electronic Manufacturer Exposition China) held in October 16-19 in Suzhou, China, with the full line-up of solutions for fields including manufacturing, human resources, R&D, finance, Customs and overall business.
A leader of the Greater China information service integration solution industry and a representative of Taiwan's information industry, Ares displayed its most advanced R&D and application results at the show with its professional enterprise operation solutions and abundant industry service experiences.
During the show, Ares exchanged industry experiences and best practices with various major international players and introduced its leading manufacturing operation solutions. Hundreds of enterprises had great interest in Ares solutions, with dozens of enterprise executives specifying their needs to Ares at the show.
At the forum of eMEX, Ares shared its best practices throughout the 28 years of its establishment and won much praise from various major international companies. Ares not only has the most high-quality products and local advantages, but can offer continued complete service and integration solutions while applying its best practices for large enterprises.
The export costs of China-based enterprise have grown with the rising material costs and Chinese Yuan while the manpower costs also have increased due to the new Labor Contract Law in China. As such, Ares HCP (Human Capital Planner) that has used its professional technology to assist the manufacturing industry to lower costs and increase production capacity while improving competitiveness can help effectively save manpower costs, let customers rapidly get used to local tax policy, retain outstanding staff and create longer-term value with a workforce of better quality.
In addition, Ares ciMes (Computer Integrated Manufacturing and Manufacturing Execution System) allows transparent factory management, improves yields and shortens delivery time. Therefore, it is the best tool for the factory in strengthening its execution power and improving competitiveness. What's more, Ares Goods in Bond (GIB) can help the enterprise to save costs, improve Customs efficiency and Customs rating.
eMEX is now the largest and most important IT manufacturing exposition in China. With around 1,650 booths, eMEX 2008 sees nearly 150,000 visitors.
Ares Best Practices:
Asustek, Cash Box Party, Chi Mei Optoelectronics (CMO), Chinese Petroleum Corp. (CPC), Gemtek Technology Co., Ltd., GIGA-BYTE TECHNOLOGY CO., LTD., Global Display Technology (Suzhou) Co., Ltd. (GDT), HeJian Technology (HJTC), Logitech, L'ORÉAL, Matsushita Semiconductor, Micro-Star International Corporation, Ltd. (MSI), Motorola, Power Quotient International Co., Ltd. (PQI), Radiant Opto-Electronics Corporation, Siliconware Precision Industries Co., Ltd. (SPIL), Taiwan Semiconductor Manufacturing Company Limited (TSMC), Tianma Microelectronics, Transcend Opironics (Yanzhou) CO., Truly Semiconductors Limited, Uni-President Enterprises Corp., ZyXEL Communications Corp. (in alphabetical order)
Introduction of Ares
Ares International Corp. is the first Taiwan-based software company to be listed on the Taiwan Stock Exchange (TSE). Established for nearly 30 years, Ares is a professional management information system software provider, with professional areas in product technical R&D and system integration. Ares provides products as well as total solutions for e-enterprise, with major service fields mainly for the financial, government and enterprise sides. Ares has passed the CMMI Level 3 certification, has outstanding project integration ability, quality guarantee ability, development and maintenance ability and the most complete professional consultancy team.