Ares hosts PLM project seminar for more effective product information management
Ares International Corp. recently launched a seminar in Taipei, introducing Oracle Agile PLM solution with a best practice example to help the enterprise in having a more effective product information management.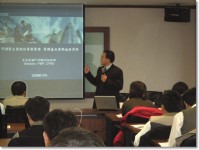 Brandon Pan, Ares PLM manager, shared the complete infrastructure and benefits of Agile PLM. In addition, Chunghwa Picture Tubes (CPT), one of the PLM best practices with services from Ares, shared the valueless experience of using Agile PLM solution to facilitate project management.
Agile PLM can be quickly introduced, easily maintained and is convenient to use while offering complete project functions. Besides selecting a competent solution, the customer will need a professional consultancy team to customize the solution for tailoring to its needs, Pan said, adding that Ares can offer the best service for introducing Agile PLM. Ares Agile PLM customers come from a variety of areas in the high-tech domain–ICP Electronics, Advantec, ADLINK, LC net, eedesign, Shuttle, Promate, amec, D-Link, Mustek, Foxlink, netconn, Acer, Sangfei, Cameo, TTY, WINSTAR and Chunghwa Picture Tubes (CPT), many of which are leading companies with operations across the Taiwan Strait. Ares can help the user to effectively deploy its resources and speed up product innovation. Therefore, Agile PLM is the best solution for improving profits.