Ares holds three-in-one "PLM, ArgoERP, ciMes" seminar for swift and effective enterprise R&D control and process management
Ares International Corp. held a special three-in-one "PLM, ArgoERP, ciMes" seminar on March 26 in Kaohsiung for sharing experiences of the cross-department, application area and function Oracle Agile PLM Solution as well as self-developed ArgoERP and ciMes for central and southern Taiwan customers.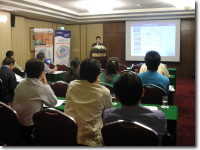 Evan Chao, senior PLM consultant of Ares, introduced the introduction process and benefit as well as the project management of Oracle Agile PLM. In addition, Chao highlighted the self-developed Executive Presentation Module (EPM) for Agile PLM users. The EPM allows high-end executives to quickly check the statistics analytic reports of related projects. Therefore, the executives can easily control the status of various projects. Chao also provided live simulation of the EPM and PLM solution introduction at the event.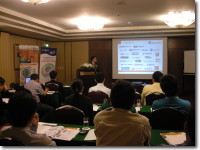 Brandon Pan, manager of the PLM consultant team of Ares, shared the best practices of Ares in implementing Oracle Agile PLM. Agile PLM customers cover high-tech industry players such as ICP Electronics, Advantech, ADLINK, LC net, eedesign, Shuttle, Promate, amec, D-Link, Mustek, Foxlink, netconn, Acer, Sangfei, Cameo, TTY, WINSTAR and Chunghwa Picture Tubes (CPT). In addition, Pan elaborated on the case of Advantech to illustrate the secret to success and benefits of introducing Oracle Agile PLM.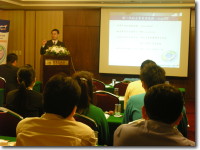 KC Hsieh, senior sales manager of Ares, shared with the audience the new-generation ERP — ArgoERP. The self-developed ArgoERP provides global mainstream innovative technology, limitless information integration, complete and advanced system functions as well as a user-friendly interface. Therefore, ArgoERP can satisfy the multi-business and multi-product operational strategies of the enterprise. Major customers of ArgoERP include Advanced Optoelectronic Technology (AOT), Inc., Amkor Technology, Inc., AOpen Inc., CAREMED SUPPLY, INC., China Engine Corporation, China Ryoden Co., Ltd, DaimlerChrysler AG. Taiwan, Famtech Inc., HannStar Display and Hitachi Taiwan.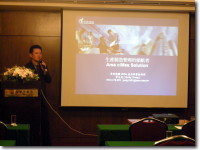 Jacky Tseng, production manager of Ares, introduces the characteristics, benefits and advantages of ciMes. ciMes is the e-solution that Ares develops for the manufacturing industry. ciMes can be integrated with all ERP systems and offers the most accurate and up-to-date information. The system is developed based on .Net and offers a user-friendly Web interface as well as complete factory execution related modules. ciMes can satisfy demands of different department executives. In addition to a swift introduction of ciMes, the solution can also help reduce production costs, improve factory yields, production quality and customer service quality.
Existing clients include AU Optronics (AUO), Taiwan Semiconductor Manufacturing Company, King Yuan Electronics (KYEC), Grace Semiconductor Manufacturing Corporation (GSMC), Powerchip Semiconductor Corp. (PSC), Vanguard International Semiconductor Corporation (VIS), APTOS Corporation, HeJian Technology, Topsun Optronics Inc., Chi Mei Materials Technology Corp. (CMMT), Luxxon, Optodisc Technology Corporation, Sintek Photronic, Allied Integrated Patterning Corp. (AIPC), ChipMOS TECHNOLOGIES (Bermuda) LTD. (ChipMOS), Princeton Technology Corp., Micro Silicon Elecs. Corp. (MSEC), United Microdisplay Optronics (UMO), STATS ChipPAC Taiwan Semiconductor Corporation, Truly Semiconductors, Radiant Opto-Electronics Corporation, etc. Ares has earned abundant factory experiences when serving its clients. In addition, with strengths in areas such as ERP, eHR and BI, Ares fully considers the integration of each information system when introducing ciMes for its clients and has won great trust from them.
The solutions presented at the seminar can satisfy the overall, R&D and manufacturing needs of the enterprise, brining overall understanding and benefits for various manufacturing and electronics companies.