Ares exhibits financial and security solutions at SWIFT event
Ares International Corp. recently attended the fourth FSAS (Funds and Securities Automation Summit) held by SWIFT (Society for Worldwide Interbank Financial Telecommunication) in Taipei, with a booth dedicated to introducing SWIFT-related solutions of Ares to participants.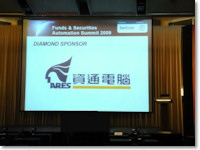 The FSAS, to be held in Taipei, Hong Kong, Seoul, Singapore, Shanghai and Mumbai in 2008, focuses on the recovery and future growth of the Asia Pacific asset management industry. This new format will work to channel evolving dialogue to track Asia Pacific's progress towards the communities' goals of high levels of straight-through-processing (STP) in domestic and cross-border funds distribution and efficiency in asset operations.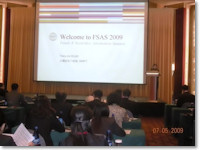 The only regional partner of SWIFT in Taiwan, Ares set up an exhibition area at the event, introducing eAresBank foreign branch financial integration system, AFEIS global financial foreign exchange system, SWIFT professional service, FSTP fund automation solution and AML (Anti-Money Laundering) system.
In addition, Ares showcased the self-developed ARES uIAM identification and access management system (single sign-on). The draft for the Computer-processed Personal Data Protection Law is about to pass through third read while related financial institutions expect enterprises to offer related solutions to meet the requirements of the law. ARES uIAM adopts highly-secure certification technology that meets the standard National Security Agency (NSA) of the US. Only the account is transferred on the Internet, without leaking out the password, to avoid the risk of interception. ARES uIAM supports various operating systems: Windows, Linux, Solaris, Unix, AIX, etc.
At the summit, Yeh Yin-Hua, commissioner of Financial Supervisory Commission (FSC), updated the audience with the regulatory regime following the global financial turmoil. Yeh indicated Taiwan should provide more incentives for the NT$4 trillion (about US$122 billion) fund from the banks to be poured in the capital market. The first steps to be taken are to improve asset management business, broaden and deepen the Taiwan financial market as well as offering a convenient fund transfer environment and tax discount to attract local residents and foreigners to enter the Taiwan capital market.
Simon Lau, project manager of SWIFT Asia Pacific Sales Services, introduced the Alliance Integrator module product that SWIFT developed for integrating the fund system. The advantages of the product include: 1. All SWIFT messages are under the Integrator, saving extra integration efforts for IT staff. 2. Updating and installing new Integrator format will not require changes to the bank business application programs. 3. The back-office system will remain unchanged, so it is a low-cost implementation.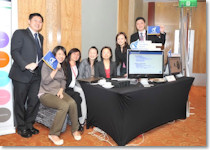 Carol Hsu, assistant professor, Department of Information Management, National Taiwan University (NTU), discussed the popularity of Taiwan's offshore fund automation. Hsu indicated that using fund STP can enable overall control and business expansion, thereby helping the enterprise to develop multiple business focuses.
About Ares promoting SWIFT
SWIFT is a co-operative established by and for the global financial industry in 1973. SWIFT provides secure and standard financial messaging services and interfaces for 8,141 financial institutions in 207 countries.
Ares International Corp. has strived for the SWIFT-related implementations and all the SWIFT standards while cooperating with SWIFT closely. In 2002, Ares became SWIFT Business Partner and was certificated as the SWIFT Service Partner in 2003. Ares provides Taiwan-based financial institutions with professional consultant services, including the installation of SWIFT Products, the planning and implementation of hobbing for overseas branches, the planning of disaster backup, and so on. With abundant SWIFT experiences and professional knowledge, Ares has developed solutions including SWIFT Messages Integration, Funds Automation solution, Global Cash Reporting solution, and so on. Up to now, Ares has assisted over 80% of banks in Taiwan in implementing, maintaining and upgrading SWIFT infrastructure. In 2008, Ares became the only SWIFT Regional Partner in Taiwan and its professional service is proven to be SWIFT Ready Service.
Introduction of Ares
Ares International Corp. is the first Taiwan-based software company to be listed on the TSE. Established for nearly 30 years, Ares is a professional management information system software provider, with professional areas in product technical R&D and system integration. Ares provides products as well as total solutions for e-enterprise, with major service fields mainly from the financial, government and enterprise sides. Ares has passed the CMMI L3 certification, has outstanding project integration ability, quality guarantee ability, development and maintenance ability and the most complete professional consultancy team.