ARES PP protects finance, semiconductor industries from information securities crisis
Information security issues are emerging recently, well-known bank ATM robbery, leading semiconductor GaAs (Gallium arsenide) foundry production line theft case ... and etc., are causing great concerns to business and government information security protection. Taiwan software company Ares International Corp. provides ARES PP (ARES Privacy Protector) that helps enterprises to manage confidential documents and archives, and set authorization and user status according to different demands, to provide instant notification when errors occur. It is the best information security protective measure for the outposts.
ARES PP product manager James Ju said: ARES PP uses transparent encryption and decryption technologies, from establishing, revising releasing to destroying documents, to provide comprehensive document lifecycle protection. ARES PP further uses visualization audit, document-mobilization, and protection on cloud to guard intellectual properties and confidential documents, to avoid problems arising from improper use of digital information.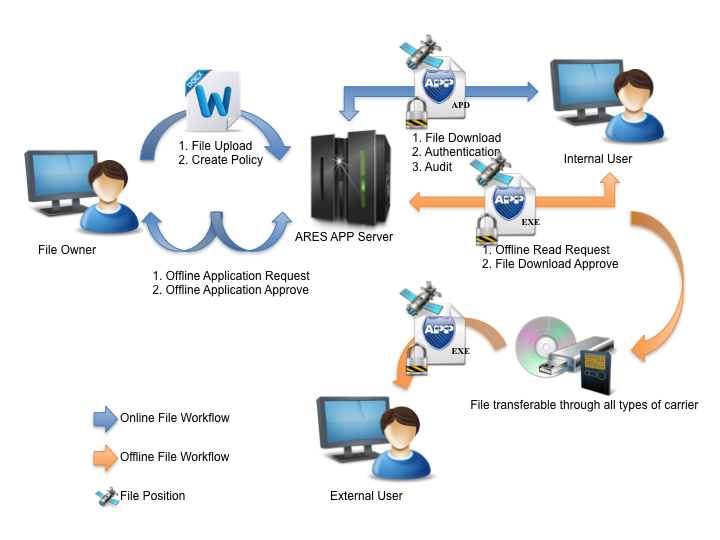 [/en/img/products/flow_ares-pp1.png]
ARES PP product manager Ju pointed out that confidential business information such as business secrets, contracts, patents and design; if the unauthorized information is sent or leaked by a mobile phone, corporate reputation will be greatly damaged. To solve the issue, ARES PP has a special protection scheme that can detect mobile phone photo-taking, to provide enterprise a safer and better information security protection choice.
Ares financial department manager Tom Hsi stated: ARES PP is confident to become enterprise′s powerful back-up, with highly-flexible convenient procedures and highly-efficient security to aim at hackers' attempt at the loopholes. ARES PP is the key to creating a best privacy protection for enterprises, which can further earn client′s trust!
About ARES PP
ARES PP uses audit visualization, document mobilization, and cloud protection to secure intellectual property and confidential documents to provide comprehensive document life-cycle protection, avoiding problems arising from improper use of digital information. ARES PP is widely adopted in universities and institutes, governmental organizations, and enterprises, providing high security and reliability.
About Ares
First Taiwan-based software company to be listed on the Taiwan Stock Exchange (TSE) and has been dedicated to IT services for thirty five years
Professional information management system provider of greater China, specializing in research and development technology and system integration, and provides informatization services from single products to total solutions for main service clients throughout financial, government, industrial and commercial enterprises
Certified regional partner of SWIFT (Society for Worldwide Interbank Financial Telecommunication) in Taiwan
First government-acknowledged IFRS (International Financial Reporting Standards) ERP solution provider, first Oracle partner in Taiwan and Microsoft Gold Certified Partner
Largest provider of Manufacturing Execution System in Taiwan LED industry
Top player of the Taiwan foreign exchange and core banking solution provider, which even has been mentioned in Gartner reports
ARES introduction: http://bit.ly/1BNIMVD
LinkedIn: http://linkd.in/1Br5OCM
Email:marketing@ares.com.tw

Contact Person: Carrie Yu
Tel: 886-2-2522-1351 ext.381
( ARES, ARES PP, are registered trademarks to Ares International Corp. Other names and trademarks belong to headquarters and branches. )