Ares HCP holds training to enhance HR operation performance
To assist clients to effectively use HCP (Human Capital Planner), Ares International Corp. recently held an educational training for HR, especially focusing on "common problems regarding holiday regulations." Ares consultants were invited to present the new system functions, looking to provide more convenient operational interface and procedure, to achieve better performances.
The HRs not only have to manage the enterprise's internal payrolls, recruitments, and assessments, but also have to handle employee's monthly attendance. As the days of the holidays change every year, when unpredictable typhoon day-off, marriage leave, and maternity leave occur, payroll calculation and attendance management will be affected, which complicates HR's management deeply.
Alex Cheng, Ares product manager, said that this training focused on the common problems of vacation days and leave requests, with system operational interface demonstration. This helped the participants to understand the system functions and operations quickly, shortening the time HR usually spends on managing the paid vacation days. Ares could generate many precious advices from the questions raised during training and survey feedbacks, and use them as the reference for the next educational training.
The event started with Ares HCP consultant Sammi Lin explaining the attendance regulations, calendar set-up and maintenance, parameter setting for payroll applications, on-board date change, employee number delete/edit, and typhoon day-off response strategy, to enhance client's work efficiency.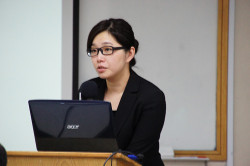 During second half of the training, Ares senior HCP consultant Renee Chen introduced the new functions, including overtime management, marriage leave regulation amendment, and maternity salary reissue. Hoping to assist the client to decrease the human resource management costs and increase operational efficiency through the new functions and operations.
During the break, participants interacted with the Ares consultants enthusiastically, using the precious time to answer various operational questions and concerns. The event ended successfully with a warm atmosphere.
About HCP
HCP possesses strong and complete functions, structure and services, winning respects from many international enterprises. Ares HCP supports multi-country, multi-language and can unify global management, has many successful global enterprise group cases in both Taiwan and China.
More about HCP:http://hcp.ares.com.tw/en
About Ares
Ares is the first Taiwan-based software company to be listed on the Taiwan Stock Exchange (TSE) and has been dedicated to IT services for thirty five years.
Ares is a professional information management system provider of greater China, specializing in research and development technology and system integration, and provides services for enterprise informatization from single products to total solutions with main service clients throughout financial, government, industrial and commercial enterprises.
Ares is the certified regional partner of SWIFT (Society for Worldwide Interbank Financial Telecommunication). Beside, Ares is the first government-acknowledged IFRS (International Financial Reporting Standards) ERP solution provider, first Oracle partner in Taiwan and Microsoft Gold Certified Partner. With the largest market share in the MES industry of Taiwan LED industry, Ares is also the top player of the Taiwan foreign exchange and core banking solution provider. The core banking system even has been mentioned in Gartner reports.
ARES Website:www.ares.com.tw/en
ARES Twitter page:https://twitter.com/arestaiwan
Email: marketing@ares.com.tw
Contact Person: Carrie Yu
Tel: 886-2-2522-1351 ext.381
( ARES, HCP are registered trademarks to ARES International Corporation. Other names and trademarks belong to headquarters and branches. )