Japan beauty and care brand ORBIS optimizes ERP warehouse management with Ares ArgoERP and e-invoicing system
About ORBIS
ORBIS was founded in Japan in 1987 and among top 3 mail-order brands. In 2006, ORBIS expanded its international business into Taiwan, which wrote a chapter for the new concept of beauty and skincare. Through sales channels like internet, phone, fax, and stores, ORBIS sells 100% oil cut, beauty, figure flattering products as well as health food. It has established 116 branch stores in Taiwan, China and Singapore and possesses over 10 million users.
ORBIS Challenges
In the retail industry, a common problem is that ERP system cannot integrate with POS and front-end sales platform operations. To enhance the efficiency of stocktaking and accounting, ORBIS needs a more flexible ERP system fit for characteristics of retail and distribution industry. Recently, to keep up with the times and to match its idea on environmental preservation, it followed e-invoicing regulations of Taiwan National Tax Administration to implement the e-invoicing system.
Product Choice
ArgoERP (Argo Enterprise Resources Planning)
Implementation Benefits
Only a half hour for monthly settlement operations
High system stability and good consultant services
Fewer errors under accurate warehouse management
Invoice information automatically transferred into ERP with e-invoicing management module
Ares ArgoERP is our first choice after we evaluated several system vendors. This is because ArgoERP's flexible system features relatively meet our requirements of retail and distribution industry", mentioned accounting manager of ORBIS.
In the retail industry, a common problem is that ERP system cannot integrate with POS and front-end sales platform operations. To enhance the efficiency of stocktaking and accounting, ORBIS needs a smarter and more flexible ERP system. ArgoERP possesses the comprehensive structures, flexible and user-friendly interfaces, as well as it keeps the abreast of the governmental regulations. Thus, ArgoERP stood out after ERP evaluation of ORBIS.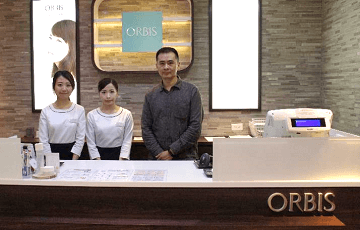 Only a half hour for monthly settlement operations; high system stability and fair consultant services
Accounting manager also stated, "I remember that during the beginning of the implementation, the system still needed some adjustments. One time, it was urgent for monthly settlement, and we immediately called Ares consultant at 1 a.m. Thanks to his availability, we swiftly tackled the problem to complete the settlement, which really impressed us." Currently, it steadily takes a half hour, within the standard, to execute monthly settlement. Not only were the former manual errors of settlement decreased, but the information accuracy and the operation efficiency enhanced. They all effectively help accounting staff submit financial and sales reports to ORBIS Japan headquarter at the beginning of the month.
Fewer errors under automatic warehouse management; e-invoice information automatically transferred into ERP
Through connecting POS of stores and warehouse systems with ArgoERP, whether the data of store sales or purchase, storage, transfer and use can be collected into the warehouse system to control the inventory anytime. Senior CRM Specialist of the administration department stated that ArgoERP automatic warehouse management is easy to use to save time and help purchase and inventory staff make appropriate decisions. To respond to governmental regulations, ORBIS also implemented the e-invoicing system last year to automatically transfer invoice information into ERP. Besides following the requirement of the regulations, it in turn enhanced overall operation efficiency, preserving environment as well as saving cost, time and space.
Solid training from ERP consultants to enhance effectiveness of utilizing system
ArgoERP senior consultant Tseng Si-Mi mentioned, "Whether the system implantation is successful is based on detailed training and education from consultants. Moreover, it is also related to the full support and cooperation of business clients. Since ORBIS staff has the basic concept and understanding of system operations, when meeting problems and consult with the consultants, they can quickly figure out where the points are and accelerate the times of consultants dealing with the problems." IT supervisor of the administration department also sated that there has been a pleasure working with Ares for ten years since in system repair and processing efficiency ArgoERP consultants can always try their best to cooperate with our requirements.
Build smart enterprise and expand international market share by technology
ORBIS has scientifically pursuit stability and safety for years for creating harmless products for bodes and skins. Through the integration of information about purchase, sales, and inventory, ArgoERP satisfies ORBIS operation strategies of business and product diversification and will help ORBIS keep listening to customers' true voices and satisfying their needs to expand its international markets.
About ArgoERP
Ares is the only listed ERP software company in Taiwan. ArgoERP modules have underlying architecture applied flexibly and built-in standard functions, so it could be adjusted to fit different characteristics of industries, such as traditional, construction, chemistry, production, and service industry, to improve the business process and the efficiency of overall resource utilization in the most economical way. It is applicable to multi-company, multi-factory, multi-currency, multi-profit center and multi-program management and is sufficient to meet the demand of enterprises in the international competition.
To cope with the policy that the domestic listed companies should adopt IFRS (International Financial Reporting Standards) accounting system, Ares has launched its IFRS solution. Being the first government-acknowledged ERP supplier, Ares has accumulated many successful IFRS cases. Elastic solutions, including the complete system replacement and the combination of different general ledger systems or reporting tools, are also provided to save human costs, accelerate operating speed, reduce errors and adjustment range of the statements in the future. The implementation of IFRS corresponding solution can help enterprises not only decrease the affection of the operation side, but enhance more competitiveness. Ares recently won eleven certificates for IFRS from Taiwan's Ministry of Commerce of Taiwan government.
More information about ArgoERP
About Ares
Ares is the first Taiwan-based software company to be listed on the Taiwan Stock Exchange (TSE) and has provided professional services for information system integration for nearly 40 years. Being a professional manufacturing management information system provider, Ares provided its IT products and services for financial institutions, government agencies, and enterprises. Not only a partner of Society for Worldwide Interbank Financial Telecommunication (SWIFT), the first government-acknowledged IFRS (International Financial Reporting Standards) ERP solution provider, the first Oracle partner in Taiwan, and the first Microsoft gold certified partner, Ares also plays the top player of the Taiwan foreign exchange, core banking solutions as well as the top Manufacturing Execution System (MES) maker for LED industry in Taiwan and got awarded by Taiwan Excellence and acknowledged by the international research institution Gartner as the only Taiwan vendor. Ares launched ArgoERP in Thailand with Thai leading software company DataOne Asia of SVOA group, aiming to become the number one ERP vendor in ASEAN markets.
Contact Person: Carrie Yu
Email: marketing@ares.com.tw
Tel: 886-2-25221351 ext. 381
(ARES, ArgoERP are registered trademarks to Ares International Corp. Other names and trademarks belong to headquarters and branches.)