ARES Privacy Protector granted watermark patent
ARES Privacy Protector (ARES PP), self-developed by Ares International Corp., recently received approval by Intellectual Property Office, Ministry of Economic Affairs, for its methods of adding invisible watermarks to and verifying them in digital documents. Enterprise information security is now better equipped with this new feature!
James Ju, system development manager of Ares, stated that the advantage of invisible watermark compared to that of visible one is not to visually disturb reading. This mark can also effectively protect authors or fair use of copyrighted work when copyright conflict happens. This time being certified for the patent on the methods of adding and verifying invisible watermarks recognized again the Ares' development capability of information security products.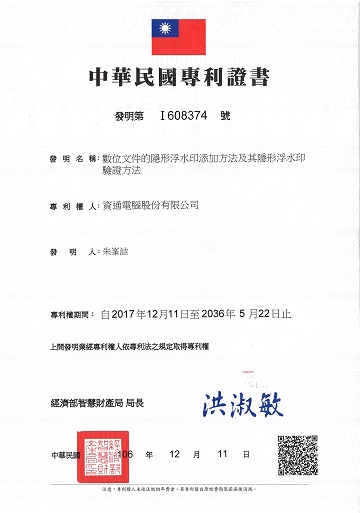 ARES PP has five modules and three trace tools to precisely realize document usage behaviors. It not only needs no agent software installation but supports various platforms and devices with synchronized encryption. The system possesses flexible and detailed audit records to fit current Personal Information Protection Act.
Ares has long devoted itself to information security developments and patent applications to be honored by multi-national patents from Taiwan, China, Japan, and the US. Incessantly passing the patent certification demonstrates that Ares aggressively invest in management, update, maintenance of information security product developments. Plus, ARES PP currently has had relevant showcases suitable for the present information security regulations, which means ARES PP can quickly assist IT professionals in taking the most comprehensive precautions in no time to easily tackle potential enterprise information security risks.
About ARES PP
ARES PP is a self-developed document/file management solution to protect, track, and audit all files. No agent software installation on the client side makes the operation process of ARES PP very easy; flexible file authorization makes it safe and convenient. Plus, defensive detection of offline document hacks ensures your safety and protection. What's more, ARES Privacy Document (.apd), a specific format, makes file delivery unaffected. The system possesses detailed audit records to fit current Personal Information Protection Act. For the current issue of screenshot captured by smart devices, ARES PP also provides anti-photo-taking feature to secure information from leakage.
ARES Privacy Protector: https://www.ares.com.tw/en/products/ares-pp/
About Ares
Ares is the first Taiwan-based software company to be listed on the Taiwan Stock Exchange (TSE) and has provided professional services for over 36 years. Being a professional manufacturing management information system provider, Ares provided its IT products and services for financial institutions, government agencies, and enterprises. Not only being a SWIFT partner, the first government-acknowledged IFRS ERP solution provider, the first Oracle partner in Taiwan, and the first Microsoft certified partner, Ares also plays the top Manufacturing Execution System (MES) maker for LED industry in Taiwan and got acknowledged by international research institution Gartner , as well as the top player of the Taiwan foreign exchange, core banking solutions. Ares launched ArgoERP in Thailand with Thai leading software company DataOne Asia of SVOA group, aiming to become the number one ERP in ASEAN markets.
ARES introduction: http://bit.ly/1BNIMVD
LinkedIn: http://linkd.in/1Br5OCM

Email:marketing@ares.com.tw
Contact Person: Carrie Yu
Tel:886-2-2522-1351 ext.381
(ARES and ARES PP are registered trademark to Ares International Corp. Other names and trademarks belong to headquarters and branches.)