Ares cares for society and helps vulnerable children
The child sponsored by Ares International Corp. recently sent letter to express gratitude and shared about her academic performance, friendships, health situation and future aspiration.
Harry Yu, chairman of Ares, indicated that Ares not only insists the principle of keeping promise to customers but also upholds the good thoughts of caring society since founded. Helping vulnerable children within your grasp may let the children have the chance to grow up well.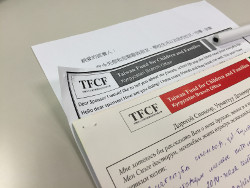 Ares has been a permanent sponsor of Taiwan Fund for Children and Families foundation for 35 years since 1980. This year, Ares "responsibility, care, service and innovation year"; sees Ares sponsoring Kirghizia children again, helping vulnerable children not to stop being educated due to economic reasons or resource shortage. Ares believes that let children being educated and free from want consistently is the fundamental method to improve their household economy and make them stand on their own legs. Therefore, Ares has sponsored children for a long time without interruption.
Besides, Ares has donated uniform invoice to The First Social Welfare Foundation and the staff of Ares responds enthusiastically. As the Ares "responsibility, care, service and innovation year," Ares invites all sectors of society to care and return good will to society together.
About Ares
Ares is the first Taiwan-based software company to be listed on the Taiwan Stock Exchange (TSE) and has been dedicated to IT services for thirty five years.
Ares is a professional manufacturing management information system provider of greater China, providing software products and professional services for financial organizations, governmental institutions and enterprises, including outsourcing services
Ares is the certified regional partner of SWIFT (Society for Worldwide Interbank Financial Telecommunication). Beside, Ares is the first government-acknowledged IFRS (International Financial Reporting Standards) ERP solution provider, first Oracle partner in Taiwan and Microsoft Gold Certified Partner. With the largest market share in the MES industry of Taiwan LED industry, Ares is also the top player of the Taiwan foreign exchange and core banking solution provider. The core banking system even has been mentioned in Gartner reports.