SWIFT – Standard and Secure Platform of Global Financial Messaging
SWIFT,Society for Worldwide Interbank Financial Telecommunication, is a co-operative established by and for the global financial industry in 1973. Since its establishment, SWIFT has been providing worldwide secure and standard financial messaging services and interfaces for 8,141 financial institutions in 207 countries. In order to enable its customers to automate and standardize financial transactions, lower costs, reduce operational risks and eliminate inefficiencies from their business operations, SWIFT is devoted to setting up the industrial standard and providing opportunities for its customers to create new business opportunities and revenue streams.
So far, SWIFT has a record of success in terms of traffic growth, price reductions, security, reliability and resilience, standards-setting and expansion into new markets.
---
The Only SWIFT Regional Partner in Taiwan Always provides the most complete and professional SWIFT Ready Service
Ares International Corporation has strived for the SWIFT-related implementations and all the SWIFT standards and cooperated with SWIFT closely. In 2002, ARES became SWIFT Business Partner formally and was certificated as SWIFT Service Partner in Jan. 2003. Ares provides Taiwan-based financial institutions with professional consultant services, including the installation of SWIFT Products, the planning and implementation of hobbing for overseas branches, the planning of disaster backup, and so on. Based on abundant SWIFT experiences and professional knowledge, Ares has developed various solutions including SWIFT Messages Integration, Funds Automation solution, Global Cash Reporting solution, and so on. Up to now, Ares has assisted over 80% banks in Taiwan in implementing, maintaining and upgrading SWIFT infrastructure. In 2008, Ares turned into a SWIFT Regional Partner in Taiwan and our professional service is proven to be SWIFT Ready Service.
---
SWIFT Solutions Brings Brand-new Prospects for Financial Industry
Currently, SWIFT FIN messages are used generally by global financial institutions in foreign exchanges. In recent years, SWIFT has developed more new SWIFT Solutions with XML standard to provide its customers with more automated and real-time transaction messages. So far, SWIFT Solutions includes SWIFT Funds, SWIFT Cash Reporting, SWIFT Trade Service Utility, SWIFT for Corporates, and so on. SWIFT widely provides solutions for funds transactions, cash management, international trade, and even the financial management of corporates to improve efficiency and reduce risks.
Payment
Cash Reporting

Real-time account information and optimized balances
Improved risk management
Shorter reconciliation cycle
Earlier exception handling
End-to-end standardization

Exceptions and Investigations

Fully automate up to 60% of your payments enquiries
Reduces your enquiry cost
Improves your customer service
Benefit from new online services
Generate additional revenue

Trade
Trade Service Utility

A centralized matching and workflow engine to support timely and accurate matching of trade-related transaction data
Increases visibility along the supply chain
Helps identify trigger points
Allows staging of product portfolio development
Enables reuse of data
Reduces risk
Lowers investment costs
Respects current corporate business practice

Treasury
Accord

Confirmation matching: MT300, 305, 306, 320, 330, 340, 341, 360, 361, 362, 392
Reducing operational risk
Lowering total cost of ownership
Ease of access via GUI and/or API
Improving operational efficiency
Increasing straight-through processing (STP)
Reducing settlement risk

Securities
Funds

Automate the process of Subscription / Redemption / Switch
Reduce operational costs and minimize operational risk
Improve customer service
Build a scalable platform for third-party distribution

Corporates
Corporate Access

Provides a single, secure, standardized, global messaging and communication platform to access to worldwide banks
Reduce costs and risk
Improve auditing processes, ensuring easier compliance
Increase straight-through processing (STP)
Optimize cash and liquidity management
Streamline operations
Focus on continuity and security
Global reach
ARES-FSTP for SWIFT Funds – A total solution for fund automation
For a long time, the funds industry has substantially relied on fax and paper documents for manual order processing. It is estimated that the mistakes from manual process and the waste of financial manpower cost over US$ 100 million. Owing to too much manual process, inefficiency is the greatest challenge for the development of funds investment industry.
The industry is valuing more and more the standardization and automation of funds management process, with Asia and Europe among one of the key areas seeing the trend. ARES-FSTP for SWIFT Funds is the first solution for the automation of foreign funds subscription, redemption, switch orders, and online confirmations between foreign fund houses and the distributors through SWIFT standard XML messages. This solution not only improves the efficiency of backend procedures and service operations, but also provides a standard platform to accelerate the automatic dealing process while reducing costs and risks.
Ares has cooperated with SWIFT for many years; therefore, not only does it has thorough understanding of SWIFT standards and technology, but masters XML technology. In the implementation project of the fund automation system in Taipei Fubon Commercial Bank, we cooperated closely with Taipei Fubon and Fedility, and ARES-FSTP went live smoothly in Nov. 14, 2006. ARES-FSTP can handle the automation process of funds distribution and reach STP operation standard. This is a landmark for the internationalization of Taiwan's financial industry. In addition, Taipei Fubon is the first bank that implements fund automation system successfully in Asia and inspires Taiwan banks to be more confident to catch the trend of fund automation synchronously and to raise global competitiveness of Taiwan's financial industry.
Main Functions of ARES-FSTP for SWIFT Funds
Subscription/Redemption/Switch order automation through SWIFT (XML)
Subscription/Redemption/Switch orders through auto-fax (Optional)
Subscription/Redemption/Switch Confirmation
Receive Statement of Holdings messages
Receive Price Report messages
Authority control of system users
Benefits of ARES-FSTP for SWIFT Funds
Trade with fund houses with SWIFT messages as a substitute for fax
Offer auto-fax function to replace manual fax operation and reduce manpower cost
Confirm orders with SWIFT messages instead of using telephone calls
Instead of manually keying in confirmations, ARES-FSTP receives Confirmations and writes them in the current fund system to reduce manual operation cost and risk. Users can know the expected value day of redemption money precisely to do the following operations
Fund houses send holdings information with SWIFT messages to reduce manpower cost
Fund houses send NAV information with SWIFT messages to improve the informational time effect and completeness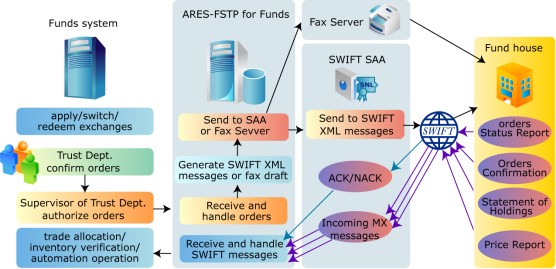 Customers
Bank of Kaohsiung, Bank of Panhsin, Bank of Taipei, Bank of Taiwan, Bank SinoPac (BSP), Cathay Life Insurance, Cathay United Bank, Chang Hwa Bank (CHB), China Development Industrial Bank (CDIB), Chinatrust Commercial Bank (CTCB), Citibank Taiwan, Cosmos Bank, COTA Commercial Bank, EnTie Commercial Bank, The Export-Import Bank of ROC, Far Eastern International Bank (FEIB), First Commercial Bank (FCB), Hwatai Bank, Industrial Bank of Taiwan (IBT), Jih Sun International Bank, King's Town Bank, Landbank of Taiwan, KGI International Commercial Bank (Originally Mega Bank), The Shanghai Commercial & Savings Bank, Sunny Bank, TaChong Bank, Taichung Bank, Taipei Fubon Bank, Taiwan Business Bank (TBB), Taiwan Cooperative Bank (TCB), Taiwan Shin Kong Commercial Bank, United Bank of Taiwan,Yuanta Commercial Bank, etc.
Interested in this product, feel free to contact
SWIFT Product Sales : +886-2-25221351 Ext. 301 Jenny Wang