Ares shares MES factory automation solution for LED industry
Ares has been invited by Taiwan media DIGITIMES to join the DAF2013 annual activity once again this year to share factory automation solution for the LED industry specifically. Ares shows ciMes (Computer Integrated Manufacturing Execution System) at the venue, attracting many visitors.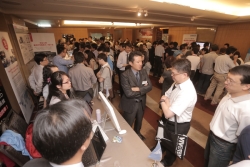 Computer applications on display include: collecting and monitoring production data during the manufacturing process, assisting quality management and reporting query and so on. Ares ciMes web-based, so clients do not have to install agent software while can process production management anytime, anywhere, reducing IT department workload and maintenance costs significantly.
Ares ciMes provides a complete factory production management and control-related modules, helping enterprise to drastically lower production cycle time and decrease WIP while improving on-time delivery ability and product quality as well as lowering purchasing costs and increasing production surplus.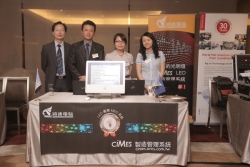 Jacky Tseng, production manager of Ares, was invited to deliver a speech on "LED industry automation solutions " besides a production demo. Tseng not only stressed the common issues faced by LED makers but also provided a total-solution of ciMes.
Tseng noted the case of LED factory as an example. Systems integration is the most difficult part during system introduction of LED companies. However, using EPI,CHIP and ciMes solutions allow collection of factory resources and quality control at real-time and establishing the target for production efficiency, completing process trace-back increasing capacity, while lowering manual errors, costs and defective rate. Additionally, ciMes can help maximizing factory benefits of manufacturing, operating and management to make smart factories come true.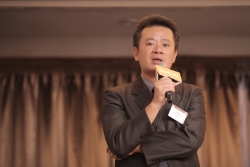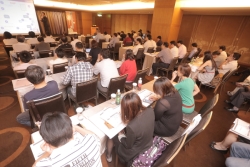 Introduction of Ares ciMes
ciMes allows remote management of production line operation, on-line multi-language interchange, access to database via Internet for shared production parameter, equipment utilization and status, staff performance, order progress and real-time capacity. The nine modules of ciMes is centered on WIP while connecting various operations. ciMes is flexible in its logic structure, allowing it to be easily integrated with ERP, HR, BPM and automation systems.
Ares ciMes consultants are equipped with rich industry knowledge and can assist the enterprise to inspect its real needs in various aspects of production when evaluating manufacturing system. ciMes now features implementation templates of various industries such as semiconductor, optoelectronics, electronic assembly, machinery, etc.
For more information on ciMes: http://www.ares.com.tw/en/products/cimes
Introduction to Ares
Ares has provided professional services for over 30 years and is the first Taiwan-based software company to be listed on the Taiwan Stock Exchange (TSE). Ares is a professional manufacturing management information system provider, with the largest share in the MES industry of Taiwan, the first government-acknowledged IFRS ERP solution provider. Ares is also the top player of the Taiwan foreign exchange and core banking solution company and SWIFT partner, while being the first Oracle partner in Taiwan.