Ares promotes missing children project with 404 page
Ares recently participated in the "Not Found project" held by the Missing Children Data Resource Center of Child Welfare League Foundation in Taiwan. With the picture of a missing child automatically published on every 'page not found' (404 page) of Ares website, Ares helps to locate missing children in Taiwan.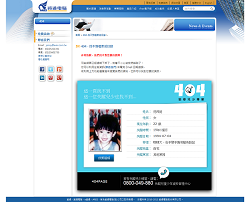 Ares has supported the Taiwan fund for children and families (TFCF) Adoption Plan for over 23 years. Expecting small businesses to play a major role in social care, Harry Yu, chairman and CEO of Ares, noted the use the 404- page as an useful tool: raising awareness about missing children. This is a creative way to make better use of the 404-page and enterprises should join the ranks of common concern for Taiwan, Yu explained.
How does the project work?
Go to http://notfound.org
Choose country
Select the button: "Yes, I'll make better use of my 404-page"
Key in your website URL
Press the "Next" button
Copy the embedded code
Integration with your site
Other Ares social care press release:
http://www.ares.com.tw/en/events/ccf-childfund-socialconcern
Introduction to Ares
Ares has provided professional services for over 30 years and is the first Taiwan-based software company to be listed on the Taiwan Stock Exchange (TSE). Ares is a professional manufacturing management information system provider, with the largest share in the MES industry of Taiwan, the first government-acknowledged IFRS ERP solution provider. Ares is also the top player of the Taiwan foreign exchange and core banking solution company and SWIFT partner, while being the first Oracle partner in Taiwan.