Ares quality further acknowledged with the pass of CMMI ML3 certification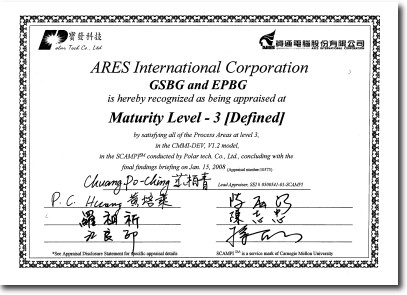 Ares International Corp. successfully passed the Capability Maturity Model Integration (CMMI) DEV V1.2 ML3 certification in January 15, 2008, after passing the CMMI SW V1.1 ML2 certification in September 11, 2006, with the announcement posted on the SEI (Software Engineering Institute) database website on March 7.
Taiwan has been promoting the CMMI plan and the number of Taiwan-based companies who have passed the certification (regardless of the level) has reached 74, which ranks the seventh globally.
The CMMI DEV V1.2 ML3 evaluation process is mainly launched at the System Service Department and Corporate Service Department of Ares. The promotion of Ares' CMMI plan includes current status analysis, procedure establishment, procedure trial and improvement, overall launch and improvement as well as evaluation analysis (including pre-evaluation/improvement and official evaluation).
After passing the certification, Ares has still been promoting and seeking for improvements. The scope of the evaluation of CMMI DEV V1.2 ML3 covers 18 process areas including PP (Project Planning), PMC (Project Monitor & Control) and RD. A total of 42 related educational trainings had been held. The emphasis of related work is on the overall launch of the policy, monthly promotional meetings for reviewing errors, modifying procedures and related listings, procedure document assessment and publications, etc. The introduction will not only improve Ares' overall image, but also its software productivity and customer satisfaction whilst the error rate of project scope evaluation can be much lowered.
In the meantime, Ares has established a policy for its internal documents, so that issues such as duty hand-over, project duty and responsibility attributions are more well-defined. In addition, various levels within the organization now value the status of the list of issues to be tended to and this has become an organizational culture. Ares employees have learned much during the CMMI promotional procedure and they are now more systematic and method-driven in processing job details. With a shared culture of the organization, not only can a sense of achievement be infused in the working environment, but a set of complete and systemized project planning internal control procedure can be established.
With the certification of the strict CMMI DEV V1.2 ML3 passed, Ares proves it has reached an international level for both of its software R&D ability and after-sale service. In addition, the procedure standards of project management and technical process of Ares also meet the professional-level demand. Ares will keep improving its quality to fully cooperate with the government policy of the CMMI model introduction and strive to obtain an even higher CMMI level.
Established in 1980, Ares International Corp. has been cultivating software technologies and is well known for its abundant e-enterprise services. Its most major competitive edge is quality. Ares not only has the international ISO 9001 quality management qualification, but also started integrating and introducing standard process flows for meeting the CMMI standards in 2005. During the CMMI project, Ares has been aggressively promoting the maturity level of its organization and staff while continuing its improvement process.