Ares launches treasury and derivatives solutions
Ares International Corp. held a breakfast meeting recently, introducing the trend of regulations about TRF (Target Redemption Forward) while presenting treasury system and derivatives solutions.
Taiwan's Financial Supervisory Commission (FSC) redressed the huge amount of losses of enterprises out of TRF transactions recently. Considering the demand of capital hedging in domestic financial environment, Ares has developed a portfolio management system for TRF sale and launched related functions to help banks put know your customer (KYC) and know your product (KYP) into practice when selling derivatives.
The activity was kicked off by Frank Lin, the president of Ares. Mr. Lin indicated Ares has experiences with financial information system for over thirty years and launched the first straight-through processing (STP) financial transaction system of Taiwan recently. This system has won the favor of many Taiwanese Banks; and the competitive function and market positioning are also recognized by the well-known market research firm Gartner.
Given the evolution of FSC regulations and international financial market, Ares held the special breakfast meeting to provide more services to suit financial industry in practice. Besides introducing the treasury system, Ares put emphasis on the portfolio management system, which can help financial industry cope with the risk and complexity of financial derivatives and achieve effective risk disclosure; also ensure the safety of customer transactions.
Zheng-Hui Chen, consultant of Ares, introduced the financial products, case study, solution provided by Ares and demonstrated the portfolio management system for attendees.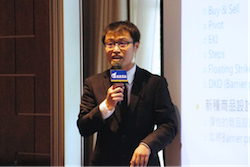 Chen mentioned that financial industry urgently needs professional and diversified financial transaction system. To respond to the evolution of regulations and international financial market, and to protect customer equity, Ares offers long-term and complete solution, which can complete forward-looking interest rate trading and achieve the goal of real-time profit-and-loss of information management in the shortest time.
Ares Treasury System features fast accounting work, automated STP and is suitable for diversified products. It also covers loan bond, financial derivatives business, as well as interest rates of financial transactions of OBUs and overseas branches. Ares Treasury System links up with Society for Worldwide Interbank Financial Telecommunication (SWIFT) and can easily integrate with not only current system but also business system in the future.
Consultant Chen indicated that Ares Treasury System has multidimensional graphical tool, which supports various financial derivatives and prevent evaluation and risk management from black-box operations. Ares Treasury System and portfolio management system are definitely the best choice for banking business.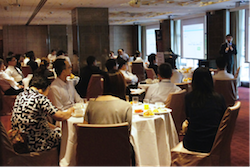 Participants were enthusiastic and satisfied with the event, which ended smoothly in heated discussion.
Introduction of Ares Treasury System
Ares Treasury System is a new generation of financial transaction system to fit the practice need of Taiwanese banks. Treasury System covers loan, bond, financial derivatives business and interest rates of financial transactions of domestic and overseas business entity. It can help financial trading and risk management personnel deal with complex problem of financial products, reduce the degree of difficulty in evaluating to solve the problem of high frequency of evaluation and expensive human costs. Ares Treasury System also help auditors understand the evaluation process without relying on an evaluation team (including evaluating tool, manpower, source of market information) and solve the problem of limited timing of auditing. Clients includes KGI Bank (Originally Mega Bank), Taichung Bank, KGI Securities, etc.
Introduction to Ares
Ares is the first Taiwan-based software company to be listed on the Taiwan Stock Exchange (TSE) and has been dedicated to IT services for over thirty years.
Ares is a professional manufacturing management information system provider of greater China, providing software products and professional services for financial organizations, governmental institutions and enterprises, including outsourcing services.
Ares is the first government-acknowledged IFRS (International Financial Reporting Standards) ERP solution provider and first Oracle partner in Taiwan. With the largest market share in the MES industry of Taiwan LED industry, Ares is also the top player of the Taiwan foreign exchange and core banking solution company and SWIFT partner.
More information about Ares: http://www.ares.com.tw/en/home