Ares highlights Taiwan financial industry growth and competitive strategies at SWIFT Business Forum
Is Taiwan's financial industry ready for the east-bound migration of the global industry focus and the growing importance of Taiwan among the global financial market? How should the industry prepare for the growths and changes of the global financial market? In June 11 and 12, SWIFT (Society for Worldwide Interbank Financial Telecommunication) launched its annual financial event-SWIFT Business Forum in Westin, Taipei. The forum is focused on the "growth and competitive edge of Taiwan financial industry". Besides SWIFT professionals, various scholars and financial professionals participated in the event, sharing the newest market development and outlook with more than one hundred financial representatives. In the meantime, Ares International Corp., the only SWIFT Business Partner & Service Partner in Taiwan, also introduced SWIFTNet and SWIFTNet Solutions as well as how to use the tools for strengthening the competitiveness and efficiency of financial institutions.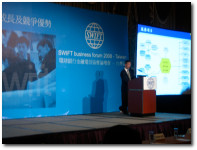 The first day of the two-day event mainly focused on the trend and outlook of the financial industry. Ares manager James Wu introduced ARES uPKI Access Control Box (ACB), discussing on the issue of information security control. Norman Yin, professor of the Department of Money and Banking, National ChengChi University, hosted the last session of the day, with the range of the discussion covering the development of global money stream and outlook of Taiwan wealth management.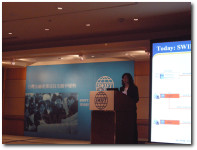 The second day saw its focus on the services and products offered by SWIFT, especially the development and trend of XML. In the afternoon, two separate meetings (business/technical) offered different topics for discussion. M.H. Lin, technical manager of Ares, shared case study of how to fully employ SWIFTNet not only for the business of banking and MT message employment and automation, but also for the expansion of application of the newest SWIFTNet Solutions from MT to MX. Therefore, banking customers can have even more tools for maximizing the benefits of the existing SWIFT infrastructure. In addition, Ms. Lin also offered the example of the implementation of SWIFTNet Funds at Taipei Fubon Bank to emphasize how to easily use SWIFTNet and earn benefits. Patrick Yeh from the Sales Support segment of SWIFT also diagnosed participants on whether SWIFTAlliance meets their need.
Ares also set up an exhibition area at the event, introducing eAresBank foreign branch system, AFEIS global financial foreign exchange system, SWIFT professional service and SAM (Smart Anti-Money Laundering System). In addition, Ares displayed self-developed ACB, the new information security control tool that can be connected with the financial system. In the future, Ares will keep providing the most complete and professional SWIFT service as a SWIFT Partner to its clients.