Ares GIB system accelerates ZyXEL in China Customs and tax processes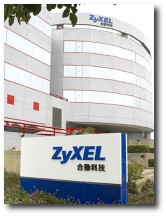 ZyXEL Communications Corp., the world's top DSL routers brand, VDSL equipment supplier and third largest DSL user-end equipment brand, recently commissioned Ares International Corp. to implement GIB (Goods in Bond) system at its Wuxi base in China, Jiangsu.
The base, which has become one of the major manufacturing bases of ZyXEL, faces challenges in Customs procedures with its massive import/export business, various component codes and import/export manual management. Therefore, ZyXEL is seeking ways to efficiently and precisely completing Customs procedures while lowering related costs and employing the discount policies as well as management procedures for encouraging investments from the government.
After implementing Ares GIB system, ZyXEL will dramatically improve its Customs clearance efficiency from seven to ten days to just half an hour for electronic account book record and to only a few minutes for modifications of the electronic account books. ZyXEL will effectively reduce the costs in recording, modifying, custom clearing and verification while having a complete management software for import/export processes. In the front end, the system can be integrated with ERP modules such as inventory, procurement and sales. In the back end, the system can be integrated with Customs Internet monitoring system, realizing the unification of logistics and information. In addition, Ares GIB system can lower the costs of enterprise bond process while largely reduce the differences of import and verification. Via Ares GIB system, ZyXEL can regularly launch simulation of verification, making timely overdue tax payment possible and can significantly reduce the overdue tax payments of import and verification taxes, along with the respective tax interest rates. Around 3.4 million yuan (around US$484,987) of enterprise bond costs can be saved with monthly import bond value of US$5 million.
With Ares GIB project, ZyXEL can have all data integrated and employed within the ERP and Customs systems, so that the connection between the actual production import/export material code data and the coding data of products under the monitoring of the Customs can be made. Such is also the case with the connection between enterprise Customs clearance data and the original order, invoice, manufacturing batch and inventory record. Since GIB system can establish the data basis for management and trace back, workload can be largely reduced and the consistency of data can be realized. Customs clearance staff will have less pressure and the operation error rate will be lower.
In addition, the flexible structure of Ares GIB for multi-company and multi-account book supports various paper/electronic manual as well as electronic account book can adapt to the monitoring requirements of various tax regions and manual types.
A rapidly-growing global network broadband system and solution company with marketing realm stretching across 150 countries in five continents, ZyXEL aims to complete its highly-efficient global operation (Taiwan/R&D, China/manufacturing, Global/brand marketing) via GIB implementation. The project also becomes another successful application for Ares GIB system in the high-tech manufacturing industry, following Gigabyte Technology, Gemtek, Motorola, Chi Mei Electronics (CMO) and Logitech.
《About Ares》
Ares International Corp. is the first Taiwan-based software company to be listed on the Taiwan Stock Exchange (TSE). Ares has passed the CMMI L3 evaluation, has strong project integration management ability, quality assurance ability, development and maintenance ability as well as the most complete consultant team.
Ares International Website: http://www.ares.com.tw/en/
Product Information Website: http://www.ares.com.tw/en/products/lt
News Contact:
Carrie Yu carrie1415@ares.com.tw
Tel: 886-2-2522-1351 ext 381