China LCD maker Tianma introduces Ares GIB for bonded goods Customs management
Shanghai Tianma Micro-Electronics, a key China-based LCD and LCD module (LCM) manufacturer, aims to soon start production at a 4.5-generation (4.5G) TFT LCD plant. For a smooth production and seamless integration with the financial data of its ERP system, Shanghai Tainma has adopted the GIB import/export/Customs component system solution of Ares International Corp. to realize Customs management.
With insufficient local upstream self-sufficiency rate and strong need for export, Shanghai Tainma needs a strong system to manage its complex bonded goods. The highly-efficient import/export operations of Ares GIB system can help improve the supply chain management of Shanghai Tianma.
To make sure Ares GIB system can seamlessly integrate with the Oracle ERP system of Shanghai Tianma, the technical team of Ares will work with Oracle's ERP team to make plans for the implementation components of Shanghai Tianma and Shenzhen Tianma Microelectronics at the same time, lifting the gap between the two operational units by IT technology to maximize the integration benefit of the modern manufacturing conglomerate. GIB system adopts independent database and application server structure; using interfaces to exchange data with Oracle ERP system and Customs entrust server.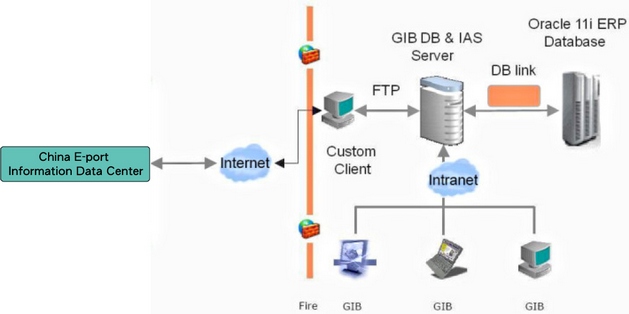 Ares GIB system directly access to Customs-related data of the Oracle 11i ERP Database using the read-only method; via the default setting to automatically generate reports that conform to the requests of the Customs and transfer the reports using the FTP method to the China E-port Information Data Center server, whose MQ software will send the data to the enterprise entrust server of the e-port center. In the meantime, the reports sent by the Customs to the enterprise will be read in the GIB system. With the highly-automatic Customs processing operational system, Shanghai Tianma will easily finish arranging, calculating and composing reports that originally require massive human resources. In addition, the implementation will largely lower the possible errors and omissions during the operation processes.
Ares GIB import/export/Customs component system solution not only saves much human resources and unnecessary tax expenses, but also speeds up the Customs operation to realize the efficient operation for Shanghai Tianma's supply chain. Via standardized and retraceable Customs operations and file backups, Shanghai Tianma's credit rating at the Customs and enterprise image can be improved.
Ares GIB system is applied in various large-size manufacturing companies. Besides Shanghai Tianma, the system is also adopted by large enterprises such as Motorola, Gigabyte Technology, Gemtek, Power Quotient International Co., Ltd. (PQI), Wistron NeWeb Corp. and Logitech International S.A.