Ares eAresBank helped Land Bank of Taiwan's Hong Kong Branch on line and built up International Financial Services in Greater China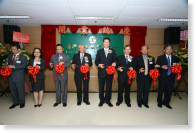 Land Bank of Taiwan outsourced the implementation project of financial system for its Hong Kong branch to Ares International Inc. this March. Ares completed the implementation of eAresBank International Financial Information System for the branch and the system formally started to operate on July 9. The system provides services of deposit, loan, remittance and trade finance.
Land Bank of Taiwan is the only government-authorized bank for fixed assets and agricultural finance business. The bank follows government guidelines to help improve the infrastructure of the government, especially in the agriculture industry and land policy. Meanwhile, the bank is aggressive in expanding to the international market. According to The Banker Magazine, 2006, the capital of Land Bank of Taiwan ranked the 196th and its total asset ranked the 174th globally. Now, Land Bank of Taiwan has NT$25 billions of capital, with 134 branches in Taiwan and international branches/offices in Singapore, Hong Kong, Shanghai, Los Angeles and TPHCM. The number of its employees exceeds 5,700.
The Hong Kong office of Land Bank of Taiwan receives approval from the Hong Kong government to upgrade to a branch at the end of last year, with formal operation starting this June. With such a tight schedule, the bank must employ a system with open architecture for an operation environment that is convenient and allows sharing resources. The system should be integrated with SWIFT, RTGS and web bank interfaces, supports stamp identification system to identify individual stamp and mail system for email, voice system and remote VPN & modem transference, so that on-line maintenance can be non stop. The system also provides telephone consultancy and foreign operation practice.
In Hong Kong, six banks use Ares eAresBank International Financial System. Ares has been SWIFT's worldwide partner for more than ten years and is familiar with international financial system, RTGS and SWIFT. However, it's tough to implement the system within just a few months. With full support from Land Bank of Taiwan and its Hong Kong branch, Ares still completed the impossible mission. This is the 19th foreign branch using Ares eAresBank International Financial System.