Ares highlights PKI technology at Taipei International Invention Show & Technomart 2008
Ares International Corp. highlighted its ARES uPKI information security system at the Taipei International Invention Show & Technomart in September 25-28.
The self-developed ARES uPKI information security product has won two patents (including the ASN.1—Abstract Syntax Notation number One—encoding/decoding system of the table lookup method and multi-signature).
Abstract Syntax Notation One (ASN.1) is a formal language for abstractly describing messages to be exchanged among an extensive range of applications involving the Internet, intelligent network, mobile phones, ground-to-air communications, electronic commerce, secure electronic services, interactive television, intelligent transportation systems, Voice Over IP and others. In the past 20-30 years, information security systems have always needed to be revised and recoded because of the confinement of ASN.1 encoding/decoding technology. With developments on ASN.1, Ares has invented important patents for the applications of information security which can lower the renewal and testing time for every new development of the programs, has better error tolerance ability, simplifies program development, accelerates execution speed, lowers the requirement of system resources, etc.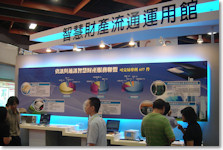 ARES uPKI not only won the Outstanding IT Applications of IT Month in 2005, but also passed the international certification of the US Novell Suse Linux YES. The product is of the international standard, supports multiple languages, is significantly flexible in expandability and is suitable for local and global electronic signature verification. Using ARES uPKI electronic verification ensures the information security verification of the enterprise, bank and government can reach the world-class highly secure level.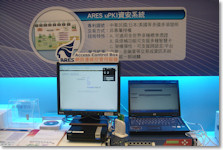 Around 641 companies from 20 countries (including Taiwan, Hong Kong Japan, Korea, Singapore, Malaysia, Thailand, Macau, Australia, Russia, Iran, Romania, Poland, Guatemala, Spain, Hungary, Bulgaria, Brazil, and the US) applied for showcasing at the event.
Introduction of Ares
Ares International Corp. is the first Taiwan-based software company to be listed on the TSE. Established for nearly 30 years, Ares is a professional management information system software provider, with professional areas in product technical R&D and system integration. Ares provides products as well as total solutions for e-enterprise, with major service fields mainly for the financial, government and enterprise sides. Ares has passed the CMMI L3 certification, has outstanding project integration ability, quality guarantee ability, development and maintenance ability and the most complete professional consultancy team.