Ares holds Oracle Agile PLM seminar for competitiveness upgrade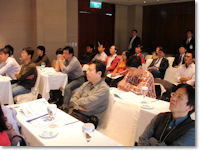 Ares International Corp. held the "Our Solution, Your Future—Total solution and competitiveness upgrade seminar" on November 12 with Oracle for assisting its clients to learn how Oracle ERP and Oracle Agile PLM (Product Lifecycle Management) can be applied in the IT industry while how enterprises can strengthen management ability and competitiveness using the solutions.
The seminar, focusing on the applications of Oracle ERP and Oracle Agile PLM in the optoelectronics and IC design industries, equipped the participants with more knowledge of the solutions and the newest industry trends.
First of all, Frank Lin, president of Ares, and Mark Lam, sales director of Oracle, delivered opening speeches while Hung Chang Fu, product solutions directors of Oracle, spoke about the various applications of Oracle solutions.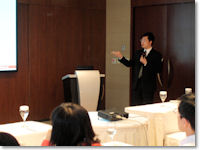 Evan Chao, senior consultant of Ares, explained how Oracle Agile PLM can help the enterprise to strengthen its document and project management as well as the detailing advantages of Oracle Agile PLM. The advantages include: (1) Low maintenance costs, only requiring one non-IT staff; (2) Complete system module functions and powerful integration among modules; (3) Unified operation interface for easy learning; (4) Flexible system allowing self-adjustment for various functions and presentations to meet the changes in enterprise processes; (5) Browsing documents of various system modules via direct hyperlinks; (6) The PLM Link developed by Ares allows full integration with the ERP system. In addition, the abundant system introduction experiences of Ares drew much attention from the participants.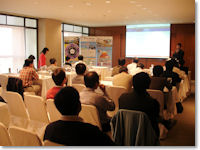 Jason Chang, senior sales consultant of Oracle, shared the introduction experience of Oracle Agile PLM with best practice Chartered Semiconductor Manufacturing Ltd. Chartered adopted four of the Oracle Agile PLM modules: Product Collaboration, Product Portfolio Management, Product Quality Management and Enterprise Visualization. With the detailed introduction, the participants understand better the benefits of adopting Oracle Agile PLM, including faster product launch, lower R&D time, fewer manual errors, less chance for the budget to exceed the original level and reduced design change time. In addition, the solution helps reducing defects during production process, returned goods and customer complaints while improving creativity, the reuse rate of materials and product traceability.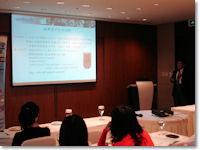 Last but not least, Ares invited Oliver Sher, assistant vice president of Unitech Electronics Co., to share its experiences in introducing Oracle Agile PLM. After adopting the solution, Unitech, Ltd., a Taiwan-based supplier of Automatic Identification and Data Collection (AIDC) products , finds it easy to adjust its Parts & BOM and can automatically renew the records to ERR. In addition, since the solution meets the ISO document management requirement, it is easy to be audited. The solution also can record replacement information and check information about inventory and import material costs at any time without the need to customize.
Introduction of Ares
Ares International Corp. is the first Taiwan-based software company to be listed on the Taiwan Stock Exchange (TSE). Established for nearly 30 years, Ares is a professional management information system software provider, with professional areas in product technical R&D and system integration. Ares provides products as well as total solutions for e-enterprise, with major service fields mainly for the financial, government and enterprise sides. Ares has passed the CMMI Level 3 certification, has outstanding project integration ability, quality guarantee ability, development and maintenance ability and the most complete professional consultancy team.
Ares International Website: https://www.ares.com.tw/en/
Product Information Website: https://www.ares.com.tw/en//products/plm
News Contact: Carrie Yu carrie1415@ares.com.tw
Tel: 886-2-522-1351 ext 381