Events & News
Ares won Oracle FY06 GCR Best Application Partner Award
2007-05-28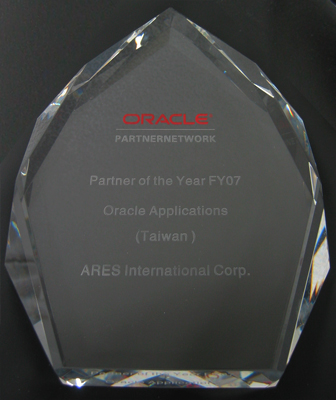 Oracle has announced "Oracle FY06 Greater China Region (GCR) Application Partner Awards". Twelve companies from China and Taiwan receive the awards. Oracle partners are companies offering products based on Oracle products while developing their own products or solutions. These partners bring Oracle customers huge value, win market share and revenues for Oracle. To recognize and appreciate their efforts, Oracle grants these partners with Oracle Application Partner Awards.
Oracle announced the awards at "Oracle Greater China Region Application Software Partner Forum" last month in Chengdu, China. There were 110 partners from different industries at the forum. The twelve partners that received the awards include nine from China, two from Hong Kong and only one from Taiwan. Ares from Taiwan won the "Oracle FY06 GCR Best Application Partner Award". The partners who won the awards are successful in their own market, have a market-leading position and provide significant support for their clients. In addition, they all have the same commitment to Oracle and fully understand the need of their customers.
In the past few years, Oracle has been continuously innovating its alliance marketing strategies. Oracle collaborates with its partners to develop and provide high-growth industry and SMB solutions to customers. Oracle works with Ares to provide solutions to customers, especially for electronic manufacturing and enterprise tax management.
In "Oracle Greater China Region Application Software Partner Forum", Oracle and its partners gathered to discuss about new opportunities, market extension strategy and new plans for the Oracle partner web.
Please visit Oracle's China website for more information.