Ares promotes global manufacturing service solution at 2007 eMEX
Ares International Corp. promoted its complete enterprise information service integration solutions at the sixth eMEX (Electronic Manufacturer Exposition China) held in October 18-21 in Suzhou, China, with the full line-up of solutions for fields including manufacturing, human resources, R&D, finance, Customs and overall business.
During the show, Ares highlighted its achievements as the leader of the"Best E-Services Export of Taiwan" team, which comprised five information service companies, introducing to the visitors the advanced information technologies and applications that helped pushing the industrialization of Taiwan and assisted Taiwan's small- and medium enterprises (SMEs) to venture into the China market.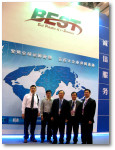 A major representative of Taiwan's information industry, Ares has participated in eMEX for many years, displaying the most advanced development and application based on its professional enterprise operation solutions and rich industry service experiences. At the event, Ares presented the overall system structure for manufacturing enterprise information infrastructure according to the information issues faced by the manufacturing enterprises during the rapid developments of information technologies as well as the gap between various management systems and application dilemmas of one-sided functions and services with no guarantee.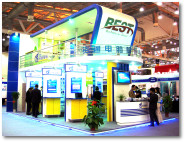 With over 20 years of customer information experiences and industry development, Ares integration solutions consider all actual aspects of enterprise users such as the rapid upgrade of technologies, platform information communication, difference in information infrastructure levels and various needs. On the one hand, Ares provides a shared use of advanced enterprise management process and system for the manufacturing industry. On the other, Ares fully considers the personalization needs of different users. Consequently, the whole system structure of Ares solutions cover the need to manage and control all processes such as production control, financial management, human capital, R&D collaboration and customer relationship of the enterprise, offering the one-stop service for the user.
eMEX is the largest professional electronic exposition in China. According to the administration of eMEX, more than 600 enterprises participated in eMEX 2007 at nearly 1,700 booths, with overall exhibiting area reaching 44,000 square meters and visitor number hitting a record at nearly 150,000.