Ares participates in SWIFT Fund Distribution and Automation Conference 2007
Ares International Corp. participated in the SWIFT Fund Distribution and Automation Conference 2007 held by SWFT (Society for Worldwide Interbank Financial Telecommunication) on November 13 to discuss the global and Taiwan fund automation development trend and outlook.
Taiwan Financial Supervisory Commission (FSC), Taiwan Depository & Clearing Corporation (TDCC), overseas investment consulting companies and local/overseas fund automation companies participated in the event to share the overall investment market condition and fund automation benefits. Harry Yu, Ares chairman, delivered a speech as the representative of the Taiwan SWIFT Partner, emphasizing that Ares has abundant integration experiences for SWIFT software and system structure and is also the expert in integrating finance and enterprise resource system. With SWIFT's service range expanding to enterprises, Ares will surely provide more complete integration service for finance and enterprise customers with years of experiences.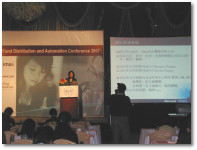 M.H. Lin, technical manager of Ares, introduced the operation process, system function and benefits of self-developed ARES-FSTP for Funds. As well, Lin reported the most important issue for all banks now—the testing and go-live status for fund houses. Take Taipei Fubon Bank as an example, besides three fund houses—Fidelity, Invesco Taiwan, AllianceBernstein—that already went live, JF and AllianceBernstein B stock will also go live at the end of this year. The number of funds that are tested and going live this year will reach 600 this year, representing one third of the number for audited funds. This shows fund automation can significantly help saving manpower for the trust department of banks. In the future, Ares will continually assist its bank customers and fund houses in testing and strive to promote the fund automation in Taiwan with SWIFT. (The above-mentioned data come from Fund Clear).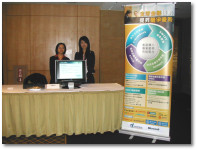 In the past few years, Taiwan's fund industry is becoming all the more prosperous. Facing the fast-growing fund business volume, financial institutions have found it insufficient to use traditional exchange methods that require heavy manual tasks such as fax and telephone. As such, SWIFT and Ares has promoted fund automation—SWIFTNet Funds together for many years.