Ares shares international HR system best practices at university seminar
Ares International Corp. recently shared its international HR system (Ares HCP; Human Capital Planner) best practices at the National Chunghua University of Education (NCUE) to cultivate future outstanding managers and create long-term competitiveness.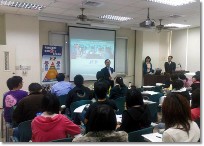 Hsing-Wen Wang, associate professor of the Business Administration department of NCUE, delivered the welcoming speech. Wang thanks Ares for providing references for the theoretical content of the academic realm with its actual system implementation experiences at various large enterprises.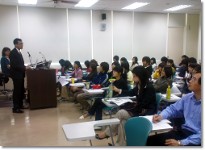 Gordon Hsu, product manager of Ares HCP, introduced Ares HCP. With system structure, module functions, features and introduction planning, Hsu familiarized the participants with the major functions and flexibility of the HCP system while enabling the participants to realize the overall value of the system and the long-term competitiveness created for the enterprise.
Jenwen Lin, senior consultant of Ares, shared the experience of Gemtek Technology and Test Rite Group in adopting HCP successfully. With a straightforward and in-depth description on the HR process, Lin introduced how HCP is not just a HR salary system but a management tool for improving the overall competitiveness for the enterprise.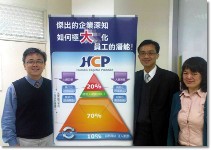 With the best practices of Ares HCP for international users, the participants were all well-infused with the newest HR industry trends. Last but not least, Ares showed the demo process of HCP system for an actual experience of the much-adopted HR system, which covers features from ordinary HR functions for HR staff to the message management platform for employees and department heads, and to the value analysis such as the average production value and costs for each group employee via BIS (Business Intelligence System).
Tung-Shou Chen, chairman of Digital Cultural Content Association (DCCA), the host for the event, thanked for the excellent speeches by Gordon Hsu and Jenwen Lin. Ares plays a vital role in the HR system development and HR market share, Lin said, adding that Ares HCP has advantages especially in cross-Taiwan Strait regions.
Introduction of Ares HCP
Ares HCP supports multi-language, multi-structure, multi-currency, multi-insurance policy, multi-tax policy, etc. Thus, it is especially suitable for global conglomerates. The system settings include default parameter while also provides necessary information management for the rapid enterprise growth and structural changes. In addition, Ares HCP allows choices between decentralized or centralized management for global human resources process model. Its system authority supports matrix structure, allows integration of the structural costs of a functional or regional basis. The enterprise procedure of Ares HCP also meets the varied management model needs of the HR staff in that it allows using the parameter processing method to launch complicated salary calculation, appraisal, shift duty, etc. It only takes half a day for automatic calculation. Thus, the administrative staff can spend time on more valuable enterprise resource planning, employee training, career planning, welfare, enterprise employee status, etc. The stage-based e-human resource process (ESS/MD) and BI system can offer convenient analysis for managers and HR staff, reflect human resource information and improve employee competitiveness as well as management performance.
Introduction of Ares
Ares International Corp. is the first Taiwan-based software company to be listed on the TSE. Established for nearly 30 years, Ares is a professional management information system software provider, with professional areas in product technical R&D and system integration. Ares provides products as well as total solutions for e-enterprise, with major service fields mainly from the financial, government and enterprise sides. Ares has passed the CMMI L3 certification, has outstanding project integration ability, quality guarantee ability, development and maintenance ability and the most complete professional consultancy team. Ares HCP has major advantages in creating better global competitiveness for the enterprise while also providing the optimal IT support and professional consultancy team services. Therefore, it is the best strategic partner of international enterprises.