Ares promotes carbon reduction electronic solution for SME
Ares International Corp. recently promoted its electronic solution for carbon reduction for small-to-medium enterprises and related benefits at a seminar held by Taipei Computer Association (TCA).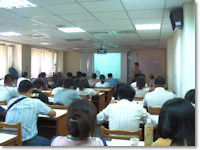 H.H. Chen, manager of Ares, kicked off the seminar by briefing on the purpose of the seminar and agenda. Dr. Wun-Hui Huang, Green Management Department, Green Environment, Safety and Health Technology Division, Industrial Economics & Knowledge Center (IEK), introduced the first topic: the concept of product life cycle carbon footprint and related global trends. During the session, Huang explained the definition of carbon footprint, the significance of carbon footprint in environment protection, its international trend, global policy on the issue, the collection method of product carbon footprint data (life cycle assessment) and comparison of various carbon footprint announcements globally.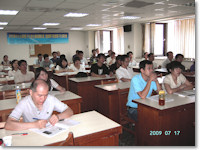 Huang also delivered a speech on the second topic: using electronic solution to assist product carbon footprint announcement. Huang shared insights on key issues such as the ways to transform the standards of organization assessment intro product carbon footprint, the evaluation procedure of the life cycle of product assessment standard and the all-encompassing product carbon footprint assessment system.
For the implantation side, H.H. Chen presented the "SMEs In-Depth Electronization Service Plan" that is sponsored by the Small and Medium Enterprise Administration (SMEA) of Taiwan's Ministry of Economic Affairs (MOEA). Chen emphasized on the concrete methods of carbon footprint evaluation for enterprise products.
The seminar ended in free discussion, which attracted keen participation of the attendees, showing the issue of carbon footprint has gradually won much attention in the Taiwan electronics industry.
Introduction of Ares
Ares International Corp. is a famous Taiwan-based information service provider that focuses on developing international banking and enterprise software, with banking software fitting n the requirements of international financial rules. As well, Ares develops ERP, MES, HRMS, PLM, CRM, SCM, BPM and PKI-related products. Meanwhile, Ares combines BI and KM to establish a complete e-system platform for enterprise, assisting them in effectively controlling costs and improving competitiveness. By now, hundreds of cross-country companies already see operation efficiency improvements thanks to Ares products. Ares has become the most professional software company in system integration and enterprise software product developments.