Ares holds IFRS seminar for large ERP users
To meet the needs of Taiwan-based large enterprises amid the trend that Taiwan is adopting the International Financial Reporting Standards (IFRS), Ares International Corp. recently invited PricewaterhouseCoopers to jointly hold IFRS seminars in Taipei, Taiwan to familiarize the enterprise with IFRS introduction and the corresponding solutions to adopt.
Joseph Chou, partner and accountant of PricewaterhouseCoopers (PwC), offered insightful viewpoints on the accounting aspect of IFRS adoption while Tony Chi, consulting manager of Ares, highlighted on how large ERP system can meet IFRS implementation requirements by using Oracle ERP as an example.
Frank Lin, president of Ares, kicked off the event by introducing Ares professional services and IFRS-related ERP, consulting and module services.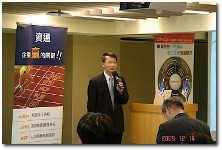 PwC's Chou shared his professional observation on IFRS rules and affected aspects. He elaborated on how related departments of the enterprise such as the accounting and IT department should comply with IFRS policies. During his presentation, Chou highlighted items needing attention during various implementation stages. With examples, Chou familiarized participants with methods of following IFRS standards, compiling corresponding plans and coordinating among related departments.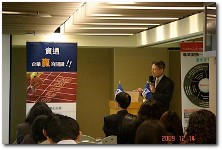 Ares' Chi exhibited how Oracle ERP system can comply with IFRS principles and illustrated affected aspects and system adjustments including the recognition and configuration of functional currency, difference in new/existing combined accounting books and related modifications, recognition of fixed assets, recognition of revenues during the production process, etc. As such, participants had a general picture of the problems occurring when dealing system adjustments and were enthusiastic over the consulting services that Ares offers.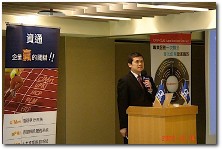 More Ares Oracle ERP consulting service introduction:
https://www.ares.com.tw/en//services/consultant
https://www.ares.com.tw/en//products/oracle
Ares ERP Consulting Service Introduction
Ares professional ERP consultants offer consulting service for Oracle ERP system. This service assists enterprises to carry out internal process analysis, future system planning, system set-up, system testing, integration testing and on-line back-up service. The questions, risks and quality of projects can be controlled through Ares project management plans.
ERP Consulting Service client list by industry:
Semiconductor design: Analog Integrations Corporation
Semiconductor testing: Ardentec Corporation, UltraTera Corporation
Automobile: Sanyang Industry
Publishing: Yuan-Liou Publishing Ltd.
Electronic Product: Kingmax Inc., Coretronic Corporation
PCB: Gold Circuit Electronics (GCE)
Introduction of Ares
Ares International Corp. is the first Taiwan-based software company to be listed on the Taiwan Stock Exchange (TSE). Established for nearly 30 years, Ares is a professional management information system software provider, with professional areas in product technical R&D and system integration. Ares provides products as well as total solutions for e-business, with major service fields mainly for the financial, government and enterprise sides. Ares has passed the CMMI L3 certification, has outstanding project integration ability, quality guarantee ability, development and maintenance ability and a professional consultancy team.