Ares promotes PKI application at college competition
Ares International Corp. recently promoted its PKI application at a college competition in northern Taiwan.
Demonstrating applications using the uPKI components offered by Ares, nine teams entered the final round. The top three spots went to Huafan University, National Chiao Tung University and Tamkang University, while Chaoyang University of Technology and Shih Hsin University won the outstanding awards.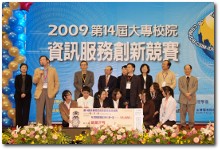 Representatives from the Department of Information Management, Huafan University, won the first place for applying PKI technology on the security protection of portable electronic medical case history. The Department of Computer Science and Information Engineering, National Chiao Tung University, received the second place with its electronic prescription medical system while the third place went to Department of Information Management, Tamkang University, for its information security digital dashboard.
James Wu, assistant vice president of Ares PKI Team and one of the judges of the competition, indicated the participating teams this year are more familiar with PKI technology than those from last year while their works are also more complicated. The application of PKI technology on portable electronic medical case history is very creative, Wu noted.
Lu-Chou Huang, the instructor of the Huanfan team, noted that the competition helps the practice of information security education and Huanfan benefited significantly from the assistance of Ares in solving PKI application issues. The Huafan team applied their information security theories on the actual practices; this can help them in becoming familiar with the directions of PKI application, Huang added.
Ares held its first Taiwan college PKI application competition in 2008. In 2009, 19 college teams joined the event at the stadium of National Taiwan University (NTU), up from 10 in 2008. The competition is part of the 14th Taiwan college information service creativity competition, which saw over 239 teams competing under various topics.
Introduction of ARES uPKI
ARES uPKI has not only won the 2005 IT month Excellent IT Application Product Award, but is the only information security product in Taiwan that is Novell YES certified. ARES uPKI supports multiple languages, is highly expandable and is suitable for both local and overseas electronic signature environments. Establishing ARES uPKI can ensure that the information security certification of the enterprise, bank and government reaches the world-class information security level.
Introduction of Ares
Ares International Corp. is the first Taiwan-based software company to be listed on the Taiwan Stock Exchange (TSE). Established for nearly 30 years, Ares is a professional management information system software provider, with professional areas in product technical R&D and system integration. Ares provides products as well as total solutions for e-enterprise, with major service fields mainly for the financial, government and enterprise sides. Ares has passed the CMMI Level 3 certification, has outstanding project integration ability, quality guarantee ability, development and maintenance ability and the most complete professional consultancy team.