Ares awarded Business Opportunity Partner for international business achievements
Ares International Corp. was recently awarded "Business Opportunity Partner" by the Department of Industrial Technology of Taiwan's Ministry of Economic Affairs (MOEA) and Institute for Information Industry (III) for its contribution in international business advancements.
Ares has been promoting self-deveoped ARES uPKI and ARES uIAM information security solutions for years and won recognition from governmental institutionss and enterprises in Taiwan and abroad. Frank Lin, president of Ares, indicated that Ares successfully strenghtens Taiwan's information security diplamatic ties with foreign countries by assisting the Guatemala government to adopt ARES uPKI electronic signature Customs system in 2007. Ares will continue to promote its information security verification mechanism, Validation Authority (VA) and Power Tool in regions such as Vietnam, India and Nepal, Lin noted.
ARES uPKI is the only information security product in Taiwan that is Novell YES certified. ARES uPKI supports multiple languages, is highly expandable and is suitable for both local and overseas electronic signature environments. Establishing ARES uPKI can ensure that the information security certification of the enterprise, bank and government reaches the world-class information security level. ARES uPKI R&D patents are certified by various regions such as Taiwan, China Japan and the US.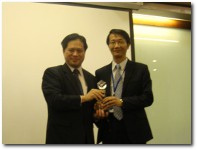 Introduction of Ares
Ares International Corp. is the first Taiwan-based software company to be listed on the Taiwan Stock Exchange (TSE). Established for 30 years, Ares is a professional management information system software provider, with professional areas in product technical R&D and system integration. Ares provides products as well as total solutions for e-business, with major service fields mainly for the financial, government and enterprise sides. Ares has passed the CMMI L3 certification, has outstanding project integration ability, quality guarantee ability, development and maintenance ability and a professional consultancy team.