Ares debuts IFRS solution at recent seminar
Ares International Corp. recently announced its ArgoERP IFRS solution at a seminar in Taipei, with PricewaterhouseCoopers (PwC) accounting firm advising customers on integrating IFRS solutions with Ares.
Harry Yu, Ares chairman, delievered a welcoming speech. He indicated ArgoERP IFRS solution is very flexible and can offer an alternative for enterprises with needs to follow the IFRS principles.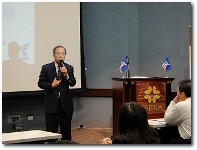 Owen Tsao, vice president at PwC, presented the aspects that will be affected by IFRS principles-accounting, business need, system integration. He also mentioned related adustments and offered examples for key IFRS configurations.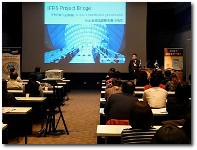 The spotlight of this event goes to the address of Ching Hua, Cheng, senior consultant of Ares. Jeng explained the key features of ArgoERP IFRS solution, which is self-developed to meet customers' needs. The embedded multi-account book and multi-company functions can meet the parallel acccount book requirements for adopting to IFRS standards. The flexible parameter setting allows functional and accounting currency settings. In addition, ArgoERP IFRS solution offers accounting principle configurations for different revenue recognition standards and provides functions for consolidated statements. Most importantly, the solution can cater to the various ERP systems that the customers use. ArgoERP IFRS solution can integrate various systems and generate repsective IFRS reports.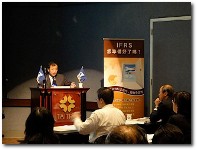 According to the Taiwan law, all listed companies in Taiwan should follow the IFRS principle in compiling financial statements starting from 2013. Since enterprisese need to start testing related settings, the seminar attracted a significant number of guests, who were all satisfied with the ArgoERP IFRS solution and had heated discussions during the Q&A session of the seminar.
Ares has been active in helping enterprises adopting IFRS accounting and information systems. The system integrator held a series of seminars in Taipei and Hsinchu, northern Taiwan, since 2009, offering a complete solution with PwC.
ArgoERP IFRS solution
The self-developed ArgoERP IFRS solution meets various ERP system needs for IFRS principles such as multi-account book structure, functional currency, asset and equipment and revenue recognition. ArgoERP IFRS solution complies with various ERP system interfaces and can automatically generate IFRS reports.
Introduction of ArgoERP
ArgoERP can satisfy the multi-business and multi-product operational strategies of the enterprise. Major customers of ArgoERP include Advanced Optoelectronic Technology (AOT), Inc., Amkor Technology, Inc., AOpen Inc., CAREMED SUPPLY, INC., China Engine Corporation, China Ryoden Co., Ltd, DaimlerChrysler AG. Taiwan, Famtech Inc., HannStar Display and Hitachi Taiwan.
Introduction of Ares
Ares International Corp. is the first Taiwan-based software company to be listed on the Taiwan Stock Exchange (TSE). Established for 30 years, Ares is a professional management information system software provider, with professional areas in product technical R&D and system integration. Ares provides products as well as total solutions for e-business, with major service fields mainly for the financial, government and enterprise sides. Ares has passed the CMMI L3 certification, has outstanding project integration ability, quality guarantee ability, development and maintenance ability and a professional consultancy team.