Ares and leading Thai software company DataOne Asia launch ArgoERP in Thailand
Ares International Corp., the only ERP company listed on the Taiwan Stock Exchange (TSE), recently joined with DataOne Asia (Thailand) Co., Ltd., a leading Thai consulting and system integration service provider and under the SVOA group, which is a leading Thai distributor with several publicly-listed companies and various subsidiary majoring in different fields, to launch ArgoERP in Thailand, with the ERP designed to meet specific needs for medium and large enterprises in Thailand.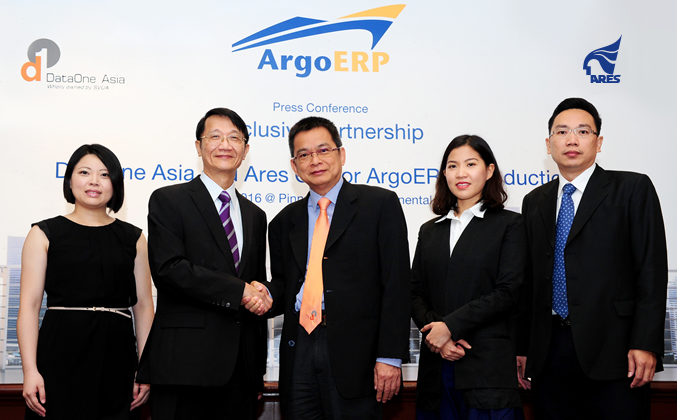 [/img/events/2016/20160811-ArgoERP-Thailand.png]
Frank Lin, President of Ares, stated that ArgoERP is flexible and easy to understand for Thai enterprises with Thai language supported. In addition, ArgoERP is multi-currency supported, making it ideal for import-export businesses and those operating in various global market.
Lin emphasized that this cooperation marked a significant step for both companies to grow enterprise customer base in Thailand. "ArgoERP" is a business process software for medium-scale enterprises looking for full functions, from accounting to human resource, asset management, production process and distribution systems, which enable them to better plan and manage enterprise resources with full function integration. Seeing great opportunity in Thailand′s ERP market, Ares worked with DataOne Asia, in introducing "ArgoERP", an easy and efficient business process software, to Thai market to establish Thailand as a hub to further expand into ASEAN markets.
Lin said that ERP is Oracle-based software and is highly reputable for its data security and system design. ArgoERP was designed in Asia but with international concepts – high flexibility and customization. Enterprise can change the parameters to best match organizational needs. ArgoERP′s full functions were researched and developed to directly address specific demands of enterprises and legal requirement in local markets, including ASEAN. It is therefore easy for IT managers to successfully implement the system and at affordable costs. At the same time, enterprises, especially medium and large scale enterprises, can be assured that they have the right ERP that will effectively fuel their business.
Adisorn Kaewbucha, CEO of DataOne Asia, said that DataOne Asia offered three main product and service offerings – hardware sales, product distribution to partners, and outsourcing service. As part of its product portfolio expansion, DataOne Asia has added ArgoERP to its ERP offerings as it sees a great opportunity for growth in this segment. The company first introduced the software in SVOA Public Company Limited and its subsidiaries to accumulate its team′s expertise and experience in system implantation, problem solving and consultation. This will also help the company gain greater confidence among its customers.
The company plans to introduce the software to customers in industrial sector, enterprise and SMEs. In the future, it will integrate the ERP with other corporate administration and management systems, including sales and service functions.
According to Adisorn, Thailand is the largest IT market in Southeast Asia considering continual and more investment from leading international companies, which make Thailand their hubs for production and businesses. Half of the IT market value is dominated by imported software, including ERP, which totaled US$27 million in 2014 and is expected to reach US$90 million in 2017, representing 10%-17% growth per annum.
Lin explained, to better understand local market needs and deliver the best possible products in Thailand, Ares has worked closely with SVOA, a leading Thai IT distributor, and DataOne Asia, a SVOA subsidiary. SVOA offers IT service and retail, factoring and leasing services and a large network of 16 branches, over 2,000 agents, and the largest service center network across Thailand. Meanwhile, DataOne Asia, is specialized in providing corporate IT solution. By combining strengths of the three partners, they can deliver efficient IT solutions that are customized for Thai customers and prevent possible problems related to compliance and legal requirements which differ from country to country and limitation related to translation into different languages.
More importantly, Ares can answer our customers′ need in this mobility era by combining Argo Portal with e-ARGO, a Cloud-based function that enables enterprises to have easy access to data and information regardless of time and places. This feature enables enterprises to see and grab any business opportunity presented to them. ArgoERP has been continually improved to best address the changing business environment, Adisorn noted.
Lin expressed that Ares will stay focused on Southeast Asia′s software market, hoping to take the preemptive opportunities and grasp the initiative situation in the market, to assist Thai enterprise to overcome the challenges!In the meantime, it will take off from Thailand, and pave its way to make ArgoERP the top choice of ERP systems in Southeast Asia.
About ArgoERP
Ares is the only listed ERP software company in Taiwan. ArgoERP modules have underlying architecture applied flexibly and built-in standard functions, so it could be adjusted to fit different characteristics of industries, such as traditional, construction, chemistry, production, and service industry, to improve the business process and the efficiency of overall resource utilization in the most economical way. It is applicable to multi-company, multi-factory, multi-currency, multi-profit center and multi-program management and is sufficient to meet the demand of enterprises in the international competition.
To cope with the policy that the domestic listed companies should adopt IFRS (International Financial Reporting Standards) accounting system, Ares has launched its IFRS solution. Being the first government-acknowledged ERP supplier, Ares has accumulated many successful IFRS cases. Elastic solutions, including the complete system replacement and the combination of different general ledger systems or reporting tools, are also provided to save human costs, lift operating speed, reduce errors and adjustment range of the statements in the future. The implementation of IFRS corresponding solution could help enterprises not only decrease the affection of the operation side, but enhance more competitiveness for them to seize opportunities. Ares recently won eleven certificates for IFRS from Taiwan′s Ministry of Commerce of Taiwan government.
More introduction about ArgoERP:https://argoerp.ares.com.tw/en/

About Ares
First Taiwan-based software company to be listed on the Taiwan Stock Exchange (TSE) and has been dedicated to IT services for thirty five years
Professional information management system provider of greater China, specializing in research and development technology and system integration, and provides informatization services from single products to total solutions for main service clients throughout financial, government, industrial and commercial enterprises
Certified regional partner of SWIFT (Society for Worldwide Interbank Financial Telecommunication) in Taiwan
First government-acknowledged IFRS (International Financial Reporting Standards) ERP solution provider, first Oracle partner in Taiwan and Microsoft Gold Certified Partner
Largest provider of Manufacturing Execution System in Taiwan LED industry
Top player of the Taiwan foreign exchange and core banking solution provider, which even has been mentioned in Gartner reports
ARES introduction: http://bit.ly/1BNIMVD
LinkedIn: http://linkd.in/1Br5OCM
About DataOne Asia (Thailand) Co., Ltd.
DataOne Asia (Thailand) Co., Ltd. align our consulting and systems integration business with outsourcing services to operate as one total solution. Our consulting capabilities, allow it to provide system design and end-to-end computer systems integration including hardware, software, software implementation, customization and system maintenance service after initiating implementation. In addition to our outsourcing service, the company delivers end-to-end solutions to help clients achieve a high level of performance. Provided by our skilled specialists with over 20 years of experience, its IT management and Data Center team collaborates with alliance-business owners and their world-class products. In the data center segment, it also offers extensive services such as co-location service, dedicated server hosting service, server management, Email outsourcing service, back-up data system management as well as disaster recovery service.
Email:marketing@ares.com.tw
Contact Person: Carrie Yu
Tel: 886-2-2522-1351 ext.381
(ARES, ArgoERP are registered trademarks to Ares International Corp. Other names and trademarks belong to headquarters and branches.)