Ares ArgoERP joins Taiwan aerospace industry A-Team to promote productivity 4.0
Ares International Corp., was recently invited to Taiwan aerospace industry A-Team Founding Ceremony, the team starts the oath-taking ceremony with "horizontal alliances and industry divisions "concepts, emphasizing the trust, promise, client reliance, and innovation to reach "lean production" as well as "increase competiveness." As part of the Taiwan Aerospace Industry Association, Ares employs ArgoERP (Enterprise Resourcing System) to successfully enrich the path towards productivity 4.0, which will greatly enhance members' competiveness.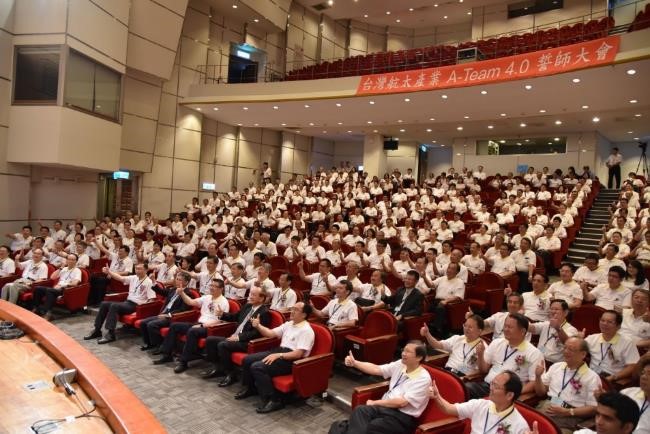 "A-team" is formed by 220 enterprises with similar ideas and values, ranging from raw materials supplier, machinery and equipment, academic research, production manufacturer, logistics and other diverse integrations, striving to increase Taiwan aerospace industry′s energy. Ares Vice President Chun-hsiao Huang stated: Ares ArgoERP combines technology, management, service, function, and product extension, to help enterprise understand the core problems and adjust the application and strategy accordingly. Ares ArgoERP helps to increase productivity with technology automatization, through complete and highly-flexible functions to meet client's needs and enhance enterprise service value. Ares Vice President Huang pointed out that Ares ArgoERP is the best choice for productivity 4.0 intelligence solution, with instant monitoring, deeply integrate manpower, machinery, and data information, to assist enterprise create e-intelligence platform and make intelligent decision analysis.
Ares recently signed a contract with Taiwanese low-cost airline, V Air, implementing ArgoERP. ArgoERP sales manager Dean Tsai pointed out:ArgoERP system is extremely flexible, can make adjustments to best fit the industry′s needs, to achieve aerospace industry′s focus on accuracy and speed of data processing. In addition, ArgoERP combines the solid and virtual applications to carry out productivity 4.0 "automation" management mechanism, to assist aerospace industry to control and adjust flexibly, decrease operation risk while increasing productivity and competiveness. Even with difficult environment and change, enterprise can still stand firmly and achieve cross-industry integration advantages.
Manager Tsai stated that Ares vowed to join A-Team 4.0, showing ArgoERP′s determination to promote productivity 4.0 actively. Ares ArgoERP acts as a key role to enhancing Taiwan industry′s competiveness and influence in the international market.
About ArgoERP
Ares is the only listed ERP software company in Taiwan. ArgoERP modules have underlying architecture applied flexibly and built-in standard functions, so it could be adjusted to fit different characteristics of industries, such as traditional, construction, chemistry, production, and service industry, to improve the business process and the efficiency of overall resource utilization in the most economical way. It is applicable to multi-company, multi-factory, multi-currency, multi-profit center and multi-program management and is sufficient to meet the demand of enterprises in the international competition.
To cope with the policy that the domestic listed companies should adopt IFRS (International Financial Reporting Standards) accounting system, Ares has launched its IFRS solution. Being the first government-acknowledged ERP supplier, Ares has accumulated many successful IFRS cases. Elastic solutions, including the complete system replacement and the combination of different general ledger systems or reporting tools, are also provided to save human costs, lift operating speed, reduce errors and adjustment range of the statements in the future. The implementation of IFRS corresponding solution could help enterprises not only decrease the affection of the operation side, but enhance more competitiveness for them to seize opportunities. Ares recently won eleven certificates for IFRS from Taiwan's Ministry of Commerce of Taiwan government.
More introduction about ArgoERP:https://argoerp.ares.com.tw/en/

About Ares
First Taiwan-based software company to be listed on the Taiwan Stock Exchange (TSE) and has been dedicated to IT services for thirty five years
Professional information management system provider of greater China, specializing in research and development technology and system integration, and provides informatization services from single products to total solutions for main service clients throughout financial, government, industrial and commercial enterprises
Certified regional partner of SWIFT (Society for Worldwide Interbank Financial Telecommunication) in Taiwan
First government-acknowledged IFRS (International Financial Reporting Standards) ERP solution provider, first Oracle partner in Taiwan and Microsoft Gold Certified Partner
Largest provider of Manufacturing Execution System in Taiwan LED industry
Top player of the Taiwan foreign exchange and core banking solution provider, which even has been mentioned in Gartner reports
ARES introduction:http://bit.ly/1BNIMVD
LinkedIn:http://linkd.in/1Br5OCM
Email: marketing@ares.com.tw
Contact Person: Carrie Yu
Tel: 886-2-2522-1351 ext.381
(ARES, ArgoERP are registered trademarks to Ares International Corp. Other names and trademarks belong to headquarters and branches.)