Ares implements Oracle EBS for Taiwan Kirin beer company, saving monthly account closing time by 7 days!
About Taiwan Kirin
The Japanese brewery company - Kirin Holdings Company, Limited was established in 1885, and entered the Taiwanese market nearly 30 years ago. In the recent years, the annual turnover of Taiwan Kirin Co. Ltd. has exceeded USD$ 8.2 million dollars, is the No.1 Japanese brand in the Taiwanese beer market. To provide more diverse beverage selections and expand its business, besides launching the classic alcohol beverages Kirin Bar, Kirin also released Kirin Gogo-no-Kocha, Kirin Nama-cha, and other non-alcohol beverages. With the brand spirit of "To create a new beverage culture side by side with our consumers; to foster well-being and prosperity among people and societies," Taiwan Kirin hopes to provide consumers valuable experience with comfort.
Enterprise Challenges
With the consideration of business growth and operating costs, the original account settlement with manual operation not only requires huge amount of time and labor, but also delays the report progress, which prohibited the enterprise to make operational strategies immediately. On the other hand, since Japan Kirin headquarter and Taiwan Kirin both need to satisfy the IFRS (International Financial Reporting Standards), along with the promotion of electronic government uniform invoice, manual work is still needed for invoice information log-in and many other works, which is very time consuming. Thus, Taiwan Kirin decided to solve the manual operation problems gradually through information system, while increasing enterprise combat capability!
Product Implemented
Oracle EBS R12 Solution
Benefits
Reduced monthly account closing operation time by 58.3%
Saved labor costs for monthly account closing by 33.3%
eGUI transfer saved 50% manual operation time
Once stepping into the office of Taiwan Kirin, in addition to the eye-catching vivid and red brand visual of KIRIN, the best sellers of each year are neatly arranged on the shelves, representing the bright result of Taiwan Kirin's deep cultivation in Taiwan for nearly 30 years. Simon Yu, director of General Division, stated firmly Ares professional Oracle ERP consultants plays a very important role in business operation of Taiwan Kirin, especially since it satisfies the needs of fast information visualization. Without the aid of ERP, we will have to increase the manpower and have time costs."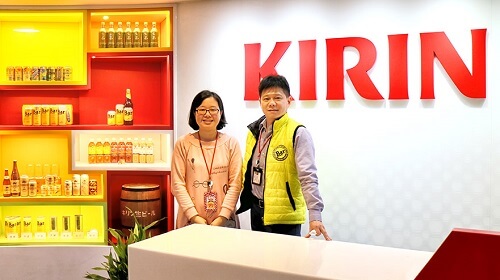 Powerful system upgrade facilitates control of financial distribution process!
Since Taiwan Kirin went through business scope adjustment, intensifying external competitions and other challenges, with the growth of business volume and consideration of operating costs, Taiwan Kirin had to constantly adjust the internal operating procedures. To enhance competitiveness and improve system problems, Taiwan Kirin simplified the financial distribution procedures and increased the operation efficiency through Oracle EBS R12: system upgrade not only enhanced the accuracy and consistency of the generated information, but also strengthened the shipping and delivery of logistics management significantly, assisting the information of each operating unit to connect smoothly!
To cope with the IFRS, Taiwan Kirin successfully implemented IFRS solution in 2016 with the assistance of Ares Oracle ERP consultant team, it supported the needs of multiple account books and reports flexibly, and significantly saved costs of manpower and time for financial settings, which responded to group management needs swiftly.
Stable professional consultant team is key to successful system implementation
Vicki Huang, assistant vice president of Ares who is well experienced with enterprise informatization counseling, pointed out that system upgrade is actually a simple implementation case, starting from "hardware environment of the equipped systems, "operation educational training, "procedure improvement interview, ""preparation of pre-go-live operation," and others, every link must be treated cautiously to ensure successful system upgrade installation. To enhance a smoother and faster procedure, Ares Oracle ERP consultant team performed a comprehensive operation educational training through online learning platform User Productivity Kit (known as UPK) for the client, and used 4 stage tutorial teaching: "User Manual," "Try It! Practice Simulation, " "Know It! Questions & Assessments, "and "Test It!" to learn the system operation easily (please see image 2 for implementation procedure explanation).
During the 12-year corporation between Ares and Taiwan Kirin, besides the aids of Ares professional consultant team during system upgrade implementation stage, when Taiwan Kirin encountered internal system operation problems ordinarily, they also rely on the rapid support of the consultant team to solve the crisis. Michael Lin, manager general administration department of Taiwan Kirin, stated that the "stability "and "reliability "of Ares Oracle ERP consultant team is very precious, and this was why Ares was chosen. Since the two sides have cooperated for a long time, just like invisible mutual understanding formed between good friends, Ares consultant will overcome all the difficulties to assist Taiwan Kirin just by merely a call, to ensure Taiwan Kirin can expand business layout without worries!
Visualized information saves account closing time by 7days with faster and more effective operation control
Simon Yu stated mentioned that the original goal of Taiwan Kirin's Oracle EBS implementation was to reduce the linking time between the purchase orders from vendors and the financials units at first, but the outcome was beyond his expectations. Originally account closing required approximately 2 weeks, with a total of 6 accounting personnel to work overtime, after the system implementation which visualized the information, the time required to finish account closing was reduced to less than 7 days. The work efficiency greatly increased over 58%, and only 4 manpower was needed which saved manpower by 33%. Not only had it reduced the time needed for making financial statements, but also successfully improved the cooperation between clients and sales. Besides, Ares also assisted with establishing eGUI (electronic Government Uniform Invoice) management system, replaced manual login invoice by automatic transfer function, which reduced operation time from 1 day to half day, saving 50% manual operation time and assisting Taiwan Kirin to manage internal operation costs effectively.
Since the internal accounting subjects of Taiwan Kirin need be consistent with that of the Kirin headquarter in Japan, in order to ensure a smooth connection of financial statements with the parent company. Since the subject receipts were shown differently in accordance with each country's language, extra time and effort were spent during the implementation state, to check each subject one by one separately. Ares Oracle ERP consultant team was very helpful, and finally led to a successful result through rounds of adjustment.
"I remembered that one time the system couldn't work properly during work, after calling Ares consultant for help, the consultant helped to fix the problems within one hour, "as recalled by Ching Chuan Tsao, deputy section manager of Purchasing General Services Department of Taiwan Kirin. Ares Oracle ERP consultant team assisted Taiwan Kirin to overcome numerous crisis, also saved the manpower costs of enterprise IT personnel.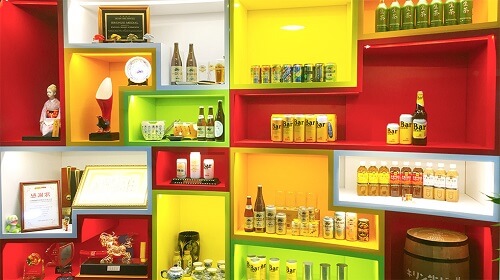 Combining Business Intelligence to create new vision of Taiwan Kirin
Talking about future expectations, Taiwan Kirin not only expects to reach annual turnover of USD$ 1.2 million, but also sets "technical strengths" as the goal of Kirin Group, wishing to bring new values to clients through the business of Kirin Group and grow with the society. Since the headquarter in Japan values and supports the informatization of the company very much, Taiwan Kirin has already planned to implement Oracle Business Intelligence Enterprise Edition (BI/EE), hoping to simplify performance analysis operation by business intelligence reports, to enable users to control various index, and to act as the best tool to track performances for Key Performance Indicator (KPI).
Just like the idea of "To create a new beverage culture side by side with our consumers; to foster well-being and prosperity among people and societies "that Taiwan Kirin holds, hoping to bring laughter to people by beverages, spread positive energy, and become the enterprise with "indispensable existence." Ares Oracle ERP consultant team will continue to be the strongest information backing for Taiwan Kirin, with professional techniques and experiences to assist Taiwan Kirin to reach its new goal stability step by step!
About Oracle
Oracle ERP is the core software of Oracle E-Business Suite and Oracle EBS is a set of total solution that is based on ERP (Enterprise Resource Planning), with the system extended to the customer end, supply chain end and high-level decision support system, which can be called ERP II. Besides including the traditional ERP, which is at the core of the enterprise, Oracle ERP integrates CRM (Customer Relationship Management), SCM (Supply Chain Management) and BI (Business Intelligence).
More information about Oracle: http://bit.ly/2pHPEGt
About Ares
Ares has provided professional services for over 36 years, and is the first Taiwan-based software company to be listed on the Taiwan Stock Exchange (TSE). Ares is a professional manufacturing management information system provide, with top Manufacturing Execution System (MES) maker for LED industry in Taiwan, and the first government-acknowledged IFRS ERP solution provider. Ares is also the top player of the Taiwan foreign exchange, core banking solutions, and is a SWIFT partner, while being the first Oracle partner in Taiwan. Ares eAresBank is acknowledged by international research institution Gartner, and self-developed ciMes becomes the only Taiwan MES solution acknowledged by Gartner. Ares launched ArgoERP in Thailand with Thai leading software company DataOne Asia of SVOA group, aiming to become the number one ERP in ASEAN markets.
ARES introduction: http://bit.ly/1BNIMVD
LinkedIn: http://linkd.in/1Br5OCM

Email:marketing@ares.com.tw
Contact Person: Carrie Yu
Tel:886-2-2522-1351 ext.381
(ARES is registered trademark to Ares International Corp. Other names and trademarks belong to headquarters and branches.)