Ares attends retail entrepreneur summit conference with ArgoERP total solution
Ares International Corp. recently attended the 13th retail entrepreneur summit conference held by TCFA (Taiwan Chain Stores and Franchise Association) and provided a total solution:ArgoERP (Enterprise Resource Planning).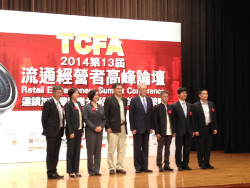 In the digital era, preference and behavior pattern of customers have not stop changing; also, online and offline accesses are in a fierce competition. This shows that omni-channel era is emerging. Finding innovative strategy, business model and enterprise philosophy of long-term development is imperative to survive the challenges.
Frank Lin, president of Ares, indicates that fierce market competition forces enterprises to improve their management level by information tools. Adopting PLM (Product Lifecycle Management), ERP, MES (Manufacturing Execution System), CRM (Customer Relationship Management) system and integrating research, design, production and sales information can save time and manpower for enterprise, providing comprehensive enterprise process management and enhancing brand power and competitiveness.
The lecturers included industry leaders and academic authorities, presenting innovative market, strategy and business model from various perspectives. All lecturers stressed virtual reality integration and the establishment and assistance of information technology play a significant role in the revolutionary era of omni-channel.
Mobile devices such as smart phone and tablet PC are widespread in recent years, while more and more customers search shopping information, receiving sales promotion message and forward share special offer to their relatives and friends via mobile devices. In this new wave, O2O (Online to Offline) marketing pattern has become an unstoppable trend. EZTABLE from Taiwan, Uber and OpenTable from the US are successful instances. Many enterprises begin to integrate online and offline channels into brand-new sales models. Hence, enterprises have to expand their horizons globally without the restriction of region.
Dean Tsai, sales manager of Ares, indicates that Ares can assist to integrate front-end POS (point of sale) and back-end ERP system with Web APP against virtual reality integration to satisfy the process integration demand of enterprises. For the problems when multinational operating will face, ArgoERP has comprehensive applications: supporting structures such as multi-company, multi-ledger, multi-language and multi-currency to satisfy the multi-business and multi-product line operating strategies of the conglomerate company. Not only manufacturing plant data but also retail sales and counter management information can be concatenated.
Tsai said it's honored to be invited to participate in the forum again. Ares is the leading firm and the only publicly-listed company of domestic ERP suppliers. Food safety scandal in Taiwan has been a heated issue such as incidents of plasticizer, clenbuterol, industrial starch, artificial flavors and questioned oil added into foods. These incidents beat down the trust on food safety of Taiwanese. In view of the facts, establishing a food traceability system is the path to cure. ArgoERP has various experiences in chain industries and circulation industries and has numerous successful cases of interfacing POS and e-commerce platform, IPO planning information system online, central factory importing and circulation retail sales. Ares has assisted plenty of well-known enterprises such as Eatogether, T-Ham Co., Taiwan ORBIS, SunnyHills, CAMAX to employ ArgoERP.
Introduction of ArgoERP
Ares is the only listed company of domestic ERP software company. ArgoERP is applicable to multi-company, multi-factory, multi-currency, multi-profit center and multi-program management and it is sufficient to meet the demand of enterprises in the international competition. The modules have built-in standard functions and underlying architecture could be applied flexibly. ArgoERP improve business processes in the most economic cost and improve the efficiency of overall resource utilized.
To cope with the accounting system policy that the domestic listed companies should adopt IFRS (International Financial Reporting Standards) accounting system, Ares launched IFRS solution. Being the first government-acknowledged ERP supplier, Ares accumulated many successful cases. ArgoERP also provides elastic solution: a complete set of system to replace, combining different general ledger systems or reporting tools. Introducing ArgoERP solution into enterprise could help save human costs, lift operating speed and reduce errors and adjustment range of the statements in the future. Ares won 11 certificates for IFRS from Taiwan's Ministry of Commerce of Taiwan government.
More introduction about ArgoERP:https://argoerp.ares.com.tw/en/
Introduction to Ares
Ares is the first Taiwan-based software company to be listed on the Taiwan Stock Exchange (TSE) and has been dedicated to IT services for over thirty years. Ares is a professional manufacturing management information system provider of greater China.
Specializes in research and development products technology and system integration, provide single product and total solution for enterprise informatization. Ares provides software products and professional services for financial organizations, governmental institutions and enterprises, including on-site and off-site outsourcing services. Ares is the first government-acknowledged IFRS ERP solution provider, Oracle partner in Taiwan and Microsoft Gold Certified Partner. With the largest market share in the MES industry of Taiwan LED industry, Ares is also the top player of the Taiwan foreign exchange and core banking solution company and SWIFT partner, while being the first. Ares possess' excellent ability of project management, quality assurance, development and maintenance and perfect consultant advisory team.
Ares introduction: http://www.ares.com.tw/en/